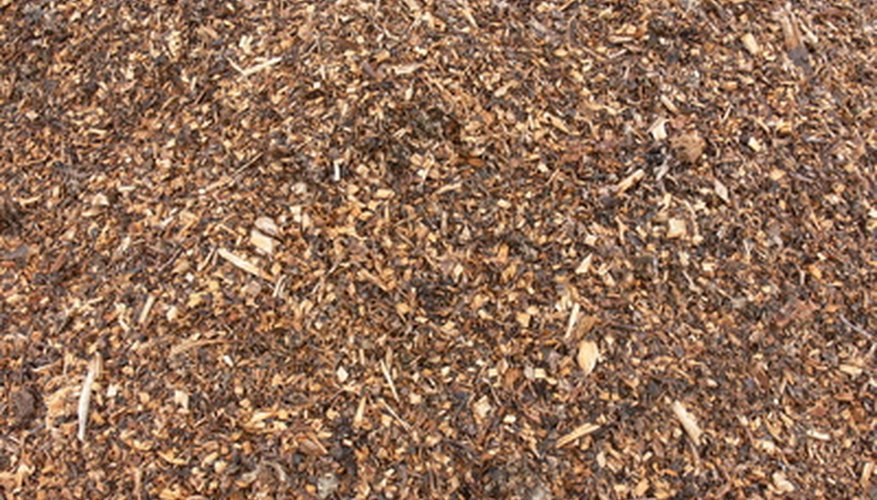 Mulch serves a number of purposes for your yard, including adding cosmetic appeal and helping grass and flowers grow. There are various types of mulch available and choosing one generally depends on your reason for adding it to your landscape. From organic varieties to those with non-organic properties, most types can be found at garden centers or home improvement stores. When deciding which kind to purchase, consider how the various types will affect your lawn and garden.
Pine Bark
Pine bark is a versatile mulch that decomposes slowly, with one application lasting up to a year and sometimes longer when properly cared for. It can be purchased in a wide variety of sizes, from small, thin pieces to larger, more chunky nuggets, spanning up to 2 inches. However, this mulch is not without its disadvantages. It sometimes breaks off into large chunks that can end up in other parts of the yard. Moreover, it can lower the pH levels in your soil.
Waste Wood
This brightly hued mulch makes for an attractive garden landscape. It is also referred to as red mulch, though it can be dyed to match other types of mulch or landscaping materials. It also lasts for an extended period of time, making it one of the more worthwhile mulch investments. It stays in place well, so you won't find numerous pieces of it around your yard. However, make sure you purchase it from a reputable manufacturer as some use numerous wood types including construction woods, which are harmful to soil. Waste wood must be combined with a nitrogen fertilizer to be effective.
Yard Waste
You need not spend a ton of money on fancy mulch; you can work with what you already have in your yard. Yard waste mulch consists of pine needles, leaves and grass shavings. This is a free option that benefits your soil, and is even good for some plant types, including azaleas. However, this mulch is not as aesthetically pleasing as others and can spur weed growth.
Recycled Tires
Recycled rubber tires are an effective option if you want to make a long-term commitment to one type of mulch. It stays in place well and never decomposes. Moreover, it discourages insects and can be found in a variety of hues to add bright color to your landscape. However, some individuals may be put off that it is not a natural garden material and smells like rubber.