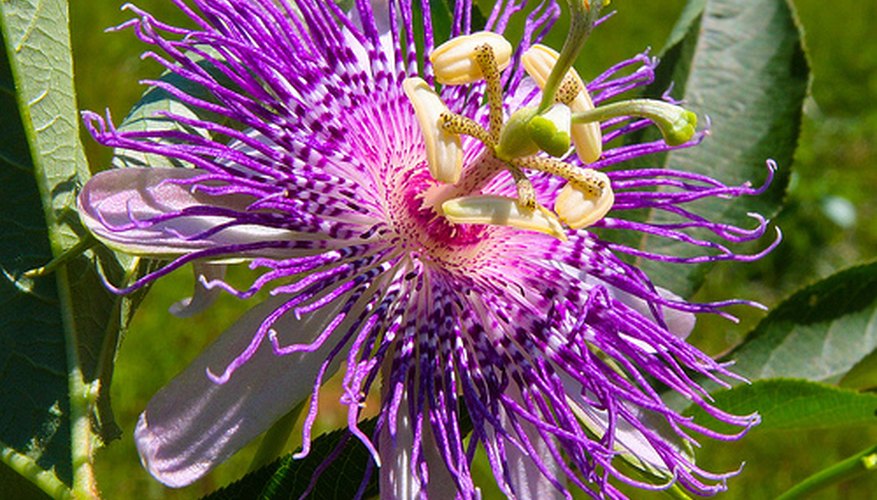 Passion flower is also called Maypop and Passiflora incarnata. It was named by missionaries in the early 1500s who believed that certain parts of the plant symbolized features of Christ's crucifixion. The flowers are 3 inches in diameter and hang from vines that can easily grow to 15 feet in length per season. Blooming occurs in July and will continue until frost sets in in late fall.
Choose a planting spot that is in partial to full sun with well-drained soil. Plan to plant the seeds in the early spring. Passion flower is especially nice to grow on a trellis or fence, but it can also scramble over trees and bushes.
Add compost to the planting area, specifically near where you'll be planting the passion flowers. Dig a hole with the tip of a garden trowel or your fingertip. It only needs to be about an inch deep.
Add one seed per hole and cover loosely with the soil/compost mix. Add water to saturate the area.
Keep the soil evenly moist during the growing season to ensure good growth and flowering. Water every two to three days, more often if you notice the soil drying out.
Apply a balanced fertilizer in the early spring to the passion flower. Re-apply six to eight weeks later. Follow the directions on the fertilizer bottle because the concentrated solution needs to be mixed with a certain amount of water.
Plant passion flower in a protected location if you live in a climate with severe winters. This would include under a roof overhang. Add a heavy layer of mulch (four to six inches) in the late fall to protect it. Frost will kill the top growth but it will come back to life in the Spring.