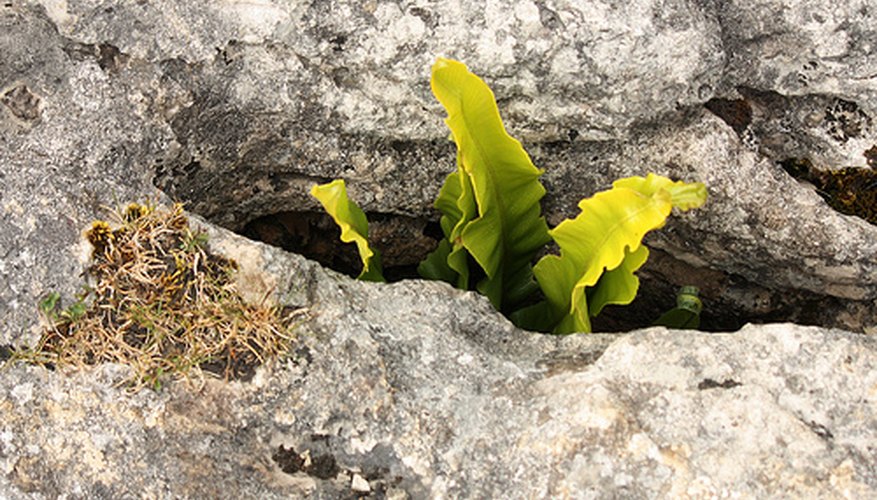 Asplenium scolopendrium, or Golden Queen Hart's Tongue Fern, originally gained its popularity in England in the later 19th century as a hearty addition to winter gardens. Known for its shiny dark leaves, this fern prefers cool, shady places and alkaline soil. The Asplenium fern originated in Europe, western Asia and eastern North America. The optimal time to plant Asplenium ferns is spring and fall.
Choose the location for planting the fern. Aspleniums thrive in cool, shady places and have even been found growing in crevices in the wild, although plants in areas will little soil tend to be much smaller.
Test the soil with a test kit. Check the levels of lime in the soil and add additional lime if necessary. Lime provides the necessary alkalinity that the Asplenium fern needs for optimal development. Ferns also thrive with increased layers of leaf mold in the soil, so consider mixing additional nutrients in with a shovel or till. If the soil lacks nutrients, such as sand- or clay-based beds, add an additional top-soil layer to aid in moisture absorption and retention.
Dig a hole large enough for the entire root system. Pack soil firmly around the base of the plant to ensure stability. Ferns tend to thrive when around other ferns, so consider planting multiple ferns together in the same bed.
Water the bed at least once per day. Moisture is essential for a fern's development, so check the bed regularly. During the summer months, increase watering to every morning and evening.
Harvest and re-plant the spores. You can cut the Asplenium spore leaves and redistribute them as transplants every year before new fronds emerge. Add transplants to the same bed or to new locations for fresh additions to the garden.
Things You Will Need
Soil test kit

Lime (optional)

Plant mold

Shovel or till