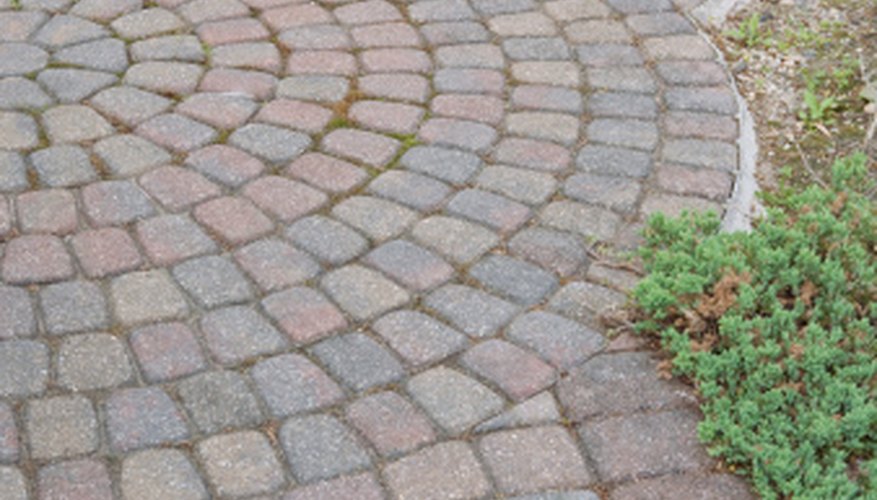 Jupiterimages/Comstock/Getty Images
One of the easiest ways to put in a patio is to lay bricks on sand. The spaces between the bricks are filled with sand, and can even be planted with moss for a more rustic appeal. Using your own muscle to dig out the patio base saves money over hiring a contractor. Using materials that are inexpensive and readily available results in a beautiful, functional, outdoor living area.
Use a garden hose to outline the shape of your future patio. The flexibility of the hose will allow you to design a curved patio. Try out different shapes until you are happy with the design. Once you have the shape you want, spray paint around it on the grass.
Dig out the area of the patio to a depth of 10 inches. Use a shovel, and a pick if necessary, to remove any rocks from the bottom surface.
Cut landscape fabric to shape and lay over the bottom of the pit to help keep weeds from sprouting out through the spaces between your bricks.
Pour in a layer of gravel, one inch thick. Use the screed to level it. The gravel will help with drainage.
Pour sand over the gravel. The sand should come high enough so that the bricks will rest even with the top of your pit. Most common bricks are four inches high. Lay the sand in layers, leveling and compacting with the screed as you go.
Lay the bricks on top of the sand. Twine strung across the patio will help to keep your rows straight, if desired. Use a piece of cardboard as a spacer. Once all the bricks are in place, spread sand over them and use the broom to push into the spaces. Continue until all the spaces are packed.
Things You Will Need
Garden hose

Spray paint

Shovel

Landscape fabric

Gravel

Screed

Sand

Bricks

Broom
References