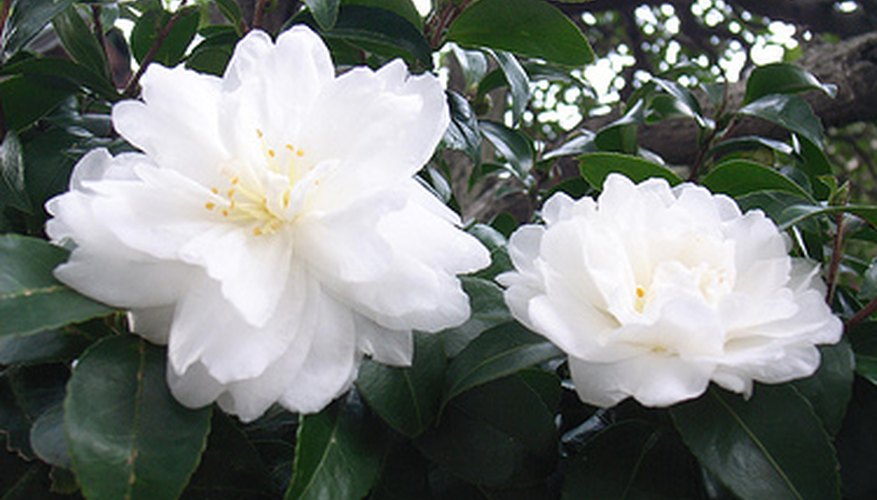 Camellia sasanqua, also known as the Christmas camellia, is an evergreen flowering shrub native to eastern Asia. It can grow up to 16 feet in height and produces large, ornamental flowers which are aboutthree inches in diameter. The flowers can be pink, red or white in color and are commonly used in bouquets during the Christmas season. Camellia sasanqua is easy to grow and requires only routine maintenance to thrive in most temperate regions.
Choose a planting location that receives full morning sun and partial shade in the afternoon heat. Spread one to two inches of organic compost over the surface of the soil and use a spade to incorporate it into the soil to increase fertility and drainage.
Dig a large hole about twice as wide and of equal depth to the root ball. Allow about three feet between each seed to prevent the plants from competing with each other for water and nutrients. Remove the camellia sasanqua plant from its container and place directly into the hole. Refill with soil and water thoroughly to collapse any air pockets.
Spread a three-inch layer of mulch around the base of the camellia sasanqua plant. This will help the soil retain moisture and will gradually release additional nutrients. Allow a gap of about six inches between the base of the camellia and the beginning of the mulch layer.
Water camellia sasanqua plants twice per week during spring, summer and fall, and only on weeks that receive less than two inches of rainfall. Reduce watering to once per week during winter when the plant is dormant. Apply just enough water to soak the soil to a depth of about six inches at each watering.
Feed camellia sasanqua plants just as the blooming period ends to promote root growth. Use a fertilizer specially formulated for camellias to provide the proper nutrients. Follow the recommended dosage and application instructions on the package for the best results.
Things You Will Need
Organic compost

Spade

Mulch

Fertilizer
Tips
Camellia sasanqua can be planted any time of year, but late fall and early spring are ideal as they allow the plant to become established before any extreme weather.

Any bark mulch is ideal for camellia sasanqua. Chopped leaves and grass clippings should not be used.

Camellia fertilizer can be purchased at well-stocked lawn and garden retail stores or plant nurseries.