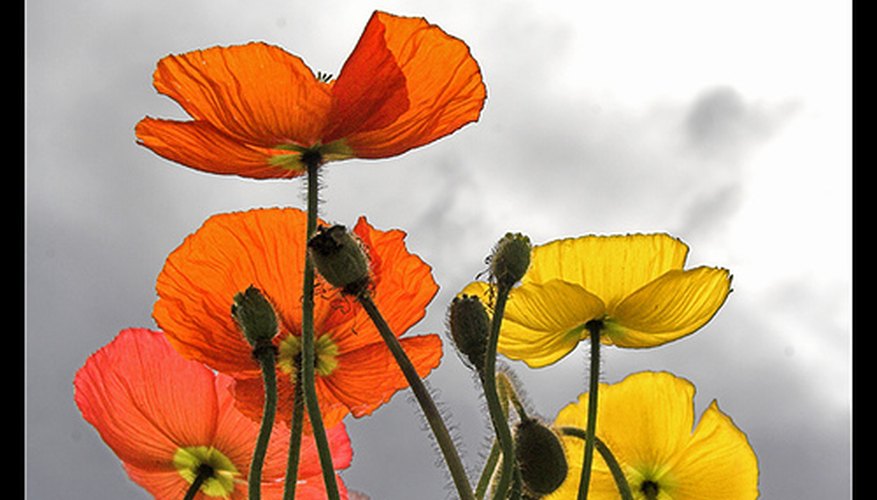 Poppies or Papaver rhoeas are annuals that grow to be about 12 to 18 inches in height. There are several varieties, including field poppy, corn poppy, shirley poppy and flanders field poppy. They thrive in full sun and bloom in late Spring to mid-Summer with red, pink, white and orange flowers. While many gardeners sow poppy seeds directly outside after the last frost, and that is the preferred method, it is possible to grow them indoors.
Fill small peat pots with soil. Add a few seeds to each one to increase the chance one will take. It usually takes about 20 days for seeds to germinate.
Check the soil pH with a tester purchased from a garden store or hardware store. Poppies thrive in neutral soil between 6.6 and 7.5 pH. If the soil is too acidic, add hydrated lime. If it is to alkaline, add ground rock sulfur. (See Resources for measurements per square yard.)
Provide poppies with the full sun and cool temperatures it needs. This can be challenging to provide inside. Experts suggest that you sprout the seedlings outside; then bring them indoors after they've started growing. Place them in a bright window (with southern exposure) to give them natural sun.
Water the containers every 2 to 3 days. The plant has average water needs and should not be over saturated.
Apply a general purpose fertilizer once each month to accelerate the plant's growth. Remove spent flowers so new blooms thrive.