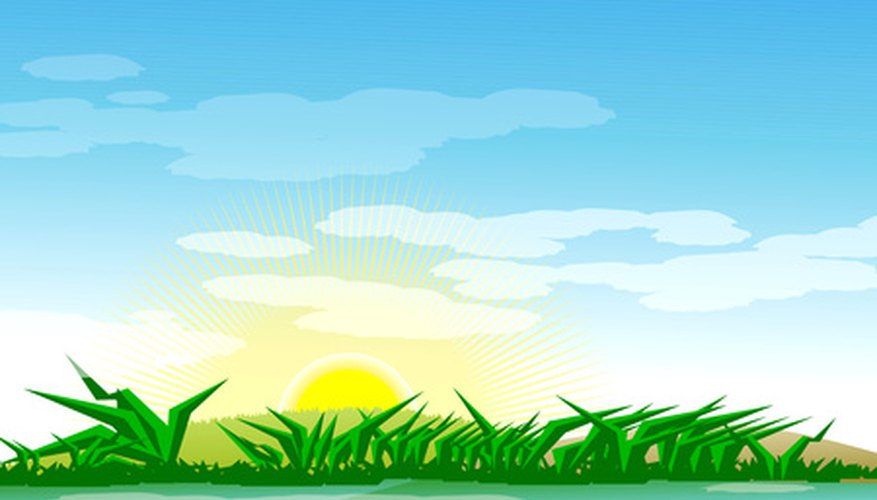 Fake grass is a decorative touch used to add details to models and dioramas. You can find fake grass at your local hobby store or craft shop, but this type of grass can be expensive. And if you want to use fake grass on an edible piece, such as a cake, cupcakes or cookies, you need a material that is non-toxic and edible. Making your own takes little time and little money and allows you control over the final product.
Moss
Collect green moss off of rocks and trees. Use a small shovel to scrape the moss from its current location. If you cannot find green, such as Reindeer moss, but you can find other kinds of moss, such as the grey-colored Spanish moss, this would work as well.
Wash the moss under running hot water to remove any insects or bacteria. Pat the moss dry with a paper towel.
Place the moss on a plate outside. Mold it into your desired finished shape. You can lay it flat or bunch it up.
Leave the moss in the sun for three to four days to dry completely.
Apply a clear varnish to the dried moss and allow the varnish to dry before placing it on your chosen model. If you used moss that was not green, spray paint the moss to get a grass green color.
Construction Paper
Pass one to two sheets of green construction paper through a paper shredder.
Use a pair of scissors to cut your strips down to the length you want your grass to be.
Gather cut strips into your hands and scrunch them up to give them a crinkled texture.
Apply your finished grass to your model or diorama using your chosen craft glue.
Cellophane
Layer three to four sheets of green cellophane on top of one another.
Use a pair of scissors to cut 1/8-inch strips from the cellophane.
Cut the 1/8-inch strips into 1-inch lengths.
Glue your cut grass to your intended model. If you want to add some movement to the cellophane, crinkle it up in your hands first.
Edible Coconut Grass
Pour the shredded coconut into a bowl. The amount of coconut depends on the amount of grass you need.
Add two to three drops of green liquid food coloring to the coconut.
Use a spatula to mix the coconut and the food coloring together. If you are not happy with the grass color, add more food coloring, one drop at a time until you reach your desired color. Mix the coconut after each drop.
Allow the coconut to dry for five minutes before transferring it to your baked goods.