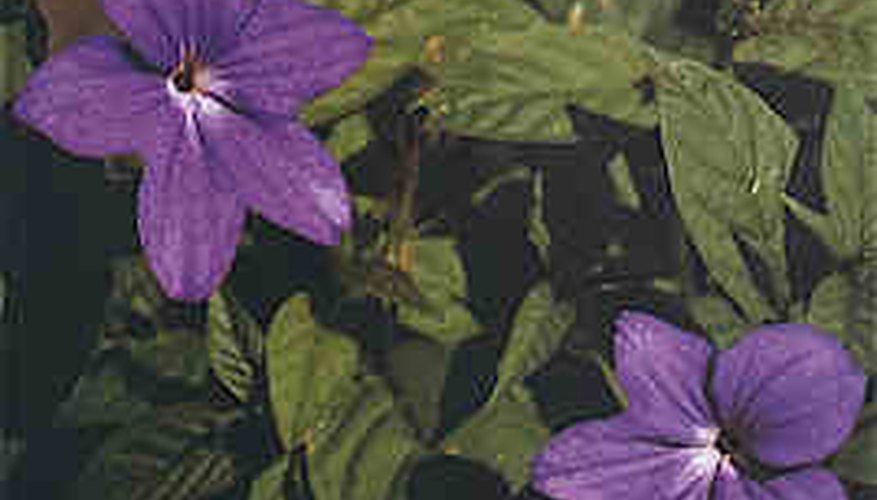 (Browallia speciosa)
These striking, violet-blue flowers contain contrasting white or pale yellow eyes. Plants grow to about 12 inches and are suitable for garden beds, pots and hanging baskets. The flowers are not suitable for cutting. Flowers last a long time in warm climates. In cooler climates it should be grown indoors.
Plants require at least half a day of full sun and should be protected from strong winds. Although it isn't fussy about the type of soil, good drainage is a must. It is best grown in pots or baskets if drainage is a problem.
Start seeds in early spring in pots or trays. Don't cover the fine seed -- it needs light to germinate. Water pots from below to avoid dislodging the seed. Transplant when the plants are large enough to handle. Water regularly to establish the plants, then only once a week once they take hold. A feeding with compost or balanced fertilizer will help the plants along when they begin to bud. Overfeeding will cause the plants to be all leaves and no flowers. Six to eight weeks before the first frost of autumn, dig up a few plants for indoor growing as house plants. Cut them back severely and put them in pots on a sunny window sill. They will flower freely all winter.
Type
annual
Propagation
seeds
Light
full sun
Flower Color
violet-blue
Bloom Time
all summer
Height
12 inches
Width
8-12 inches
Soil Requirements
well drained, average moisture
Zones
not suitable for cooler regions
Uses
beds, pots, hanging baskets