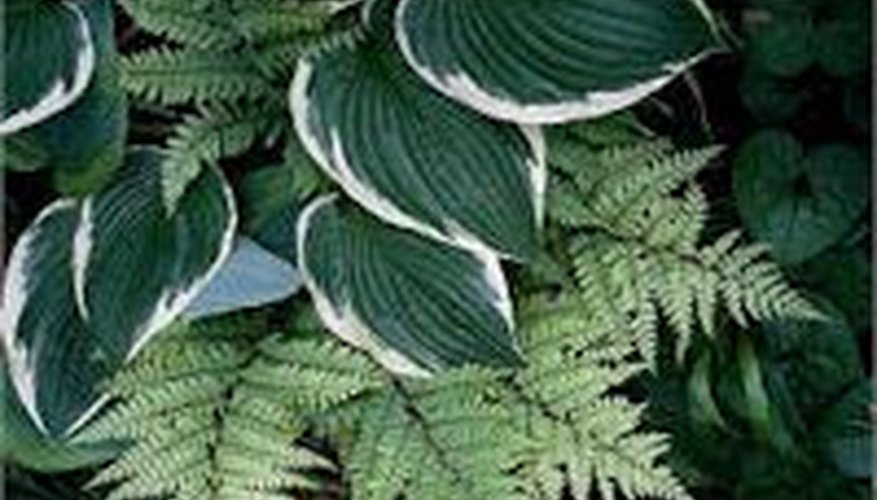 The flowerless garden: Foliage can be beautiful by Carol Wallace
When you think about gardens, you think about flowers. People talk about the rose garden, the dahlia bed, the wildflower meadow. Blossoms, scent, nectar fill our heads with visions of spring and summer splendor. Which is all very well except for one small fact--most flowers don't bloom all spring and summer. They flare up in a blaze of glory, sputter and go to seed. And then what have you got? Leaves.
No one ever seems to talk much about the leaves. But if you really think about it, foliage is the real backbone of a successful garden. Think of a woodland garden in summer. The spring bulbs are gone, and we are left with a medley of ferns and heuchera and other leafy things. And what we see is a picture of sophisticated serenity, more texture than color, but beautiful without bloom.
When I realized this, I started to talk about leaves, until my husband dared me to create a garden using no flowers whatsoever. Then I had to do more than talk, I needed to really look at plants, then buy them, and plant them. That's when I discovered just how fantastic foliage can be.
Take hostas. I didn't even really realize that they flowered--although they do, some with wonderful scents, to boot. But they come in many colors--silvery white, cream, yellow, gold, chartreuse, light and deep green, blue-greens and blues, not to mention all the variegations! You could make a colorful garden with just this plant.
However, a sea of hosta could get boring, even with all the infinite variations of leaf shapes available. I prefer to intermingle mine with the delicate texture of ferns. Fern color isn't nearly as varied, but you still have variety. Some are a pale yellow green, some quite deep and shiny. And the Japanese painted fern, with its tones of silver and burgundy blends beautifully with almost anything. For a more warm-colored effect, try an Autumn fern, which, despite it's name, turns a beautiful autumnal color in spring as it emerges. There is variety in texture, too, from the fragile laciness of maidenhair fern to the solidity of harts tongue fern.
Some ferns are groundhuggers like the hosta, others can get quite tall--so there is room for a lot of different designs using just these two plants. But don't stop there.
Have you ever investigated all the available varieties of heaths and heathers? They bloom--and with careful selection you can have some in bloom 12 months a year in most areas of the country--but the foliage color is what attracted me. Steely silver grey, bronze-gold, spring green--and then there are russet orange ones, or ones with pink and cream tips. They offer a perfect punctuation mark in the winter landscape, and a lovely surprise in the spring and summer.
Or try heuchera. I have a friend who ordered five varieties, in varied shades of silver with purple, burgundy, green and near-blackmarkings, and arranged them to form a sort of persian carpet of leaves. I've been collecting heuchera ever since, hoping to imitate this. They flower--but who cares with leaves this lovely?
Ajugas also come in a multitude of colors, from silver to bronze to a fairly bright purple. Pulmoniarias offer white spots like spilled droplets of milk.
For something with more height, there are some wonderful new Japanese maples to try. My favorite (til the deer ate it) was Acer palmatum "Orido Nishiki" with mottled foliage of green, ivory and rose. But you can find foliage in everything from golden orange through yellow through crimson, burgundy--even green!
Cannas have fabulous foliage. Bengal Tiger, with its bold stripes of green and gold is a real show stopper, but I have a sneaky fondness for red flowered cannas with burgundy leaves mixed with the bold bluish burgundy foliage of the castor bean. I never knew red and purple could look so well together. Aesthetic Gardens has this plant (also known as Praetoria) too.
On a quieter note, consider the old rose, rosa glauca. Mine has never bloomed, and I don't really care. I love it for its leaves, a steely grey blue warmed with a blush of burgundy. Underplanted with white-silver stachys with its pettable ears of foliage it presents a study in coolness; partnered with purple opal basil it takes on warmth.
I haven't even begin to scratch the surface, describing foliage which can give a garden color and depth even without bloom. Just take a good look now, as you shop the catalogs, and a better one when you visit the garden centers this spring. You'll see that no garden ever has to be dull just because bloom season isn't here.
About the Author
Carol is a garden writer and college professor in northeast Pennsylvania. She manages the Gardening section of Suite 101.com, where she also writes the column Virtually Gardening.