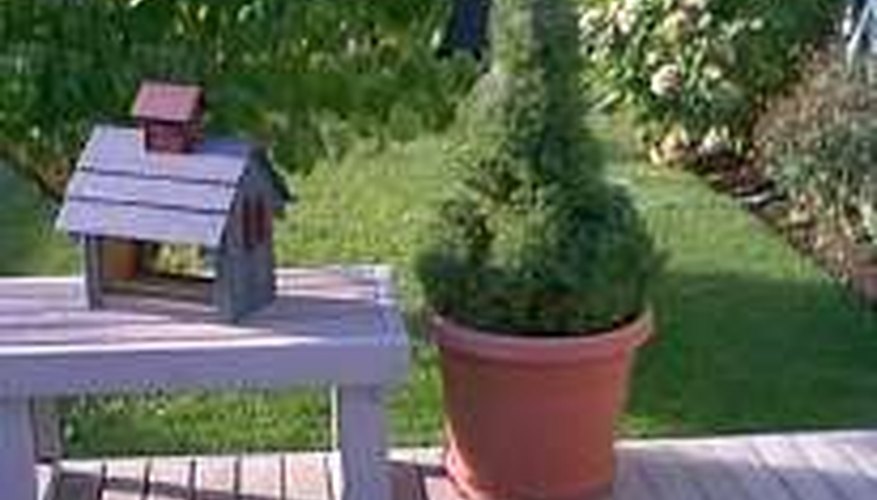 Do you remember how bleak and drab your containers crammed full of flowering plants looked following the end of summer last year? Have you, like many gardeners, always made a vow to plant something fabulous in those empty containers to help chase the winter blues away, yet never taken the time and effort to do it?
Perhaps this is the year you are longing to plant something permanent in at least some of your containers for year-around beauty and color. Does the idea of planting some superb container plants that don't require deadheading or pruning sound appealing to you? Are ready for a change from container flowers that bloom for only one short summer season, then lay down and die after Jack Frost's first nippy visit?
How about some perfect "no fuss-no muss" evergreen shrubs in containers that you can almost ignore, yet will stay happy and green for years with minimal care? You might be thinking that there are no such "perfect" shrubs for containers. At least none that you have heard of -- not yet anyway.
If this sounds too good to be true, allow me to introduce you to several exceptional evergreen shrubs known to thrive the year-around in containers.
BUXUS (Buxaceae) -- Boxwood, Box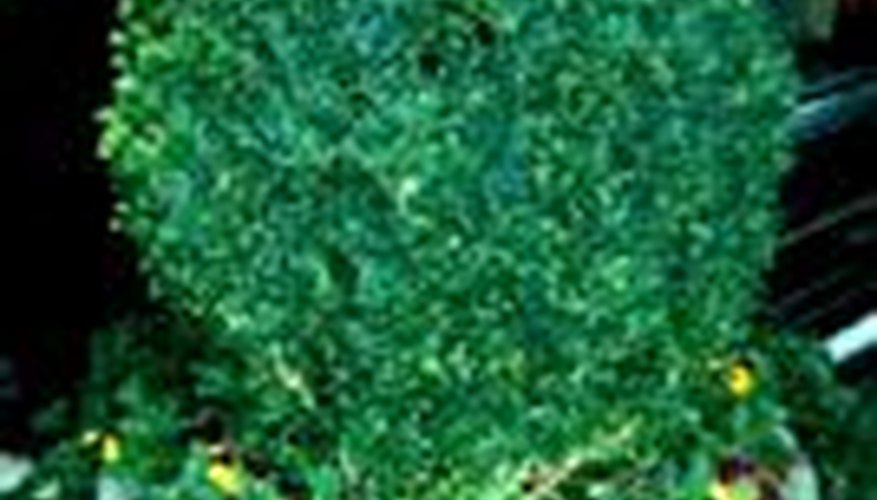 This legendary evergreen shrub is very versatile, yet ever so easy to grow. Whenever I think of "boxwood" my thoughts almost immediately turn to picturesque English cottage gardens. And, how often I have envied those expansive, bright green impeccable Italian gardens pictured in gardening books on my bookshelf!
However, since I don't have an English cottage garden, nor could I ever manage one of those fantastic Italian gardens, I'll settle for a few easy-care boxwood for my garden decor.
For our first year-around boxwood beauty, let's begin with this sweet little evergreen shrub called Korean Boxwood (B. m. koreana).
Before continuing, it should be emphasized that this species of boxwood (B. m. koreana) is different from the species (Buxus harlandii), usually sold in California and also called "Korean Boxwood." Sometimes nurseries have been known to label boxwood incorrectly. I learned this the hard way from experience when planting a brand new boxwood hedge on three sides of my front courtyard.
After planting a dozen or more boxwood I had purchased for my project, I found I needed about six more plants. Since the nursery where I'd purchased the first plants was sold out of B. m. Koreana, I hurriedly went to another local nursery and found the six plants I needed. In checking their labels, I saw that they were labeled "Korean Boxwood." To my surprise (NOT a pleasant one), after they had begun to grow a bit, I noticed that the last six were totally different from the others! The good news is that those last six were planted on the rear edge of my courtyard. Fortunately, the difference between the two plants isn't quite as noticeable had they been mingled with the B. m. Koreana I planted in front.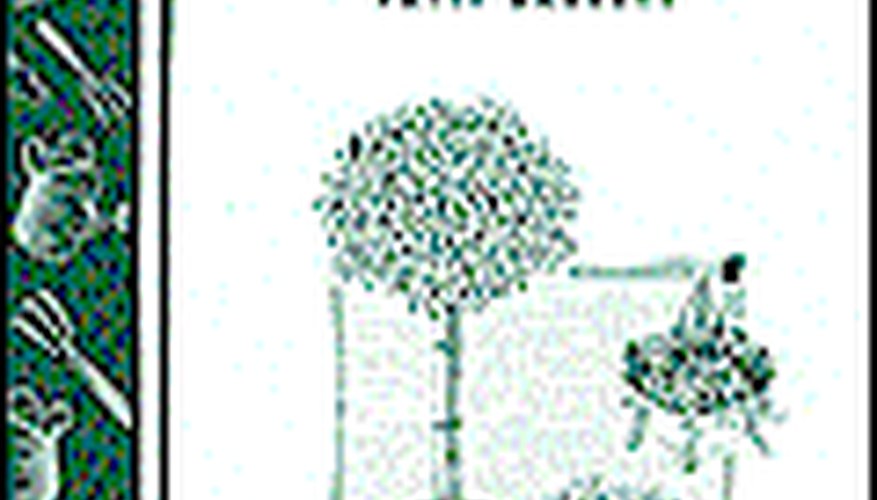 Container Gardening

This 32-page booklet is part of Storey Publishing's Country Wisdom series. In this informative booklet you'll learn:

- How to select containers
- How to choose a good potting mix or make your own.
- How to plant and care for your container gardens.
- How to create beautiful hanging baskets and windowboxes.
- Which plants are best for containers.
- And more!
B. m. Koreana boxwood can be very charming when planted in containers. This species is hardy and thrives in all USDA zones to 18 degrees (F), whereas many other species can't tolerate freezing temperatures. The glossy green leaves of 1/4 -1/2 inch are smaller than those of Buxus harlandii boxwood. Because it is very slow and also low growing, it is an ideal evergreen shrub for containers. This species needs little if any pruning or shaping, although it won't hurt to trim or shape them if you like.
Boxwood prefer slightly acid to slightly alkaline soil and do very well when planted in early fall. It is wise to keep their soil moist for several weeks following planting. October is the perfect month for rejuvenating your outdoor containers. Grouping four or five boxwood in one area and using different sized pots make an eyecatching bright green display to brighten up an otherwise drab spot. You will not only enjoy your boxwood during the winter, but they will continue to be showy throughout the spring and summer months.
As with all container plants, your boxwood will need to be watered more frequently during warmer weather. It has been my experience that applying an acid shrub fertilizer once in early spring and again in midsummer keeps my boxwood green and healthy.
If you live in a climate where freezing is not a problem, such as in California, you may wish to use Buxus harlandii boxwood for planting in containers. Again, grouping several varieties of boxwood in areas where garden planting is not feasible will lend great color to otherwise drab areas.
Another popular species of boxwood is Japanese Boxwood (B. m. japonica) which is hardy in USDA Zones 8-12. This variety is often used in containers and can be shaped into pyramids, tiers or globes. Its compact foliage is very bright green during the summer, turning bronze or brownish colored in some winter areas.
Yet another favorite of gardeners is the species B. sempervirens 'Suffruticosa', often called dwarf boxwood or English dwarf boxwood. It grows very slowly and is noted for its dense evergreen foliage. This species can also be sheared and shaped, and since it is so slow growing it is an excellent candidate for containers.
As with any container plants, you can let your imagination run rampant if you want to add a few colorful annuals or perennials to your boxwood planters during summer months. Just remember -- when fall and winter arrive these will need to be removed. So if your plan is to "keep it simple" you might want to do just that -- keep it simple!
PICEA (Spruce - Pinaceae)
For a superb species of evergreen shrubs to plant in containers that will compliment your low growing boxwood, choose several Dwarf Alberta Spruce (P. g. Conica') or Dwarf White Spruce. This species is also sold as P. albertiana in nurseries, should you happen to see any with this label.
Dwarf Alberta Spruce (P. g. Conica') are pyramidal or cone-shaped, having very soft needles that are quite short and very soft and fine, as opposed to the oval-shaped glossy leaves of boxwood. Like boxwood, this species of Alberta spruce is extremely slow growing, reaching a height of only 7 feet in 35 years! It is highly unlikely that you will need to worry about this unique evergreen outgrowing its container in your lifetime.
Although very hardy to cold zones, the Dwarf Alberta does need to be protected from wind, whether hot or cold. If you decide to plant several in containers, be sure you select a location to place them where they will be protected. They don't tolerate extremely hot sunlight very well either. It's best to situate Alberta spruce in an area that is relatively cool.
My experience with Dwarf Alberta has been very positive. I have two identical Alberta flanking either side of the front door of our home that faces west. I chose this location for my Dwarf Alberta because the very wide eaves of our roof provide both shade and shelter for my containers. They have been planted in the same containers for almost five years, and are thriving. We live in USDA Zone 6, where summers are hot and winter temperatures can dip into the minus 10 degree (F) zone on occasion.
I also have two younger Dwarf Alberta spruce planted in containers that sit on our backyard deck. This location gives them early morning sunshine and late afternoon shade. Again, the wide eaves on our home provide them with a certain amount of shelter from adverse weather conditions.
Dwarf Alberta is not prone to diseases other than an occasional infestation of aphids in late fall. You will want to inspect your plants if you notice their needles beginning to fall or turn brown. Spraying with a reliable insecticide will quickly chase away any "unwanteds" before they do much damage.
Before planting either your boxwood or dwarf spruce, select containers that will accommodate these evergreen shrubs up to their mature size. It is not recommended to move either of these shrubs once they are established. This disturbs their root system and could hinder healthy growth in the future. As always, proper soil and good drainage are critical considerations for any container plants.
A great side benefit to having Dwarf Alberta evergreens growing in containers is that they can serve as miniature outdoor Christmas trees during the Holiday Season. When decorated with tiny colored or white Christmas lights, you will be spreading Holiday cheer throughout your neighborhood. These low voltage lights won't damage your evergreen shrubs. Always be very careful, however, to use lights that are appropriate for outdoor electrical outlets.
So, if you are convinced that these "no fuss-no muss" evergreen shrubs are for you, why not just go for it? You'll be very glad you did when Old Man Winter drops his white mantle onto your summer landscape!
Copyright Naomi Matthews -- All Rights Reserved.
About the Author
Naomi Mathews also writes a column on Butterfly and Hummingbird Gardening for Suite 101.com.