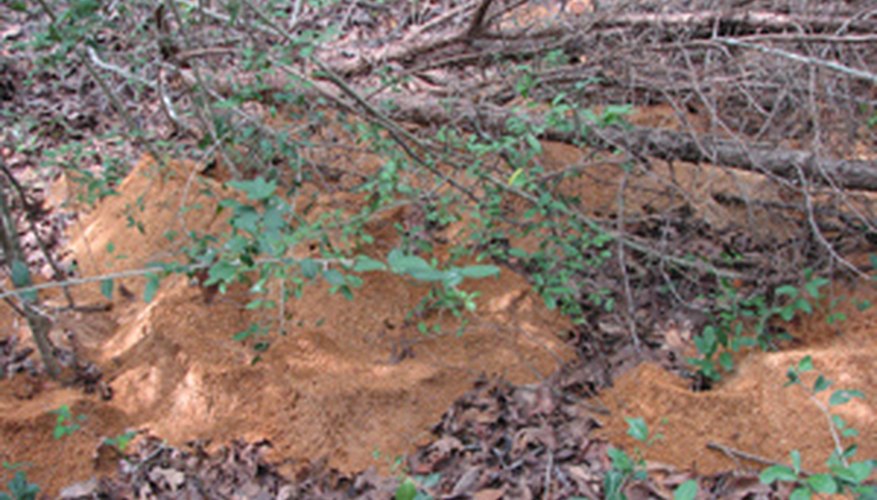 Few insects are as destructive and mysterious as the leaf cutter ant (Atta cephalotes.) The ants live in underground colonies and forge trails as long as 800 feet to target vegetation that they cut and carry back to their underground hives. Once there, they use the cut vegetation to create a compost that is the medium to grow a fungus that is their only food. Unfortunately, there is not a product on the market that will eliminate a colony, so they can only be controlled. In fact, if a leaf is covered with an insecticide, the fungus will tell the ants through a chemical message not to bring more of it into the colony and they will simply target another plant.
How to Get Rid of Leaf Cutter Ants
Locate where leaf cutter ant activity is present if colonies are not obvious. During the summer, the ants are most active at night between 11:00 p.m. and midnight. The first night after a plant is targeted, you will notice numerous leaves around the base of the plant that look like they simply fell off the plant. Some of the leaves will have half-moon shaped cuts out of their side. The second night the ants will cut up the leaves and carry them into their den. That is when you will need to take your flashlight and follow the trail of ants to their den, and locate the openings or "vents" where they are entering the ground.
Spread or spray the contact insecticide over the trail as well as the area in and around the vent, covering as many ants as possible. Don't kick, close, or otherwise disturb the vent as you want as many foraging ants as possible to cross your insecticide barrier. Collapsing the vent will make them dig another vent some distance away. Pyrethrum dust is the organic solution. This will quickly stop the assault on the target plant and shut down their operation for the evening.
The next day spread a 5-foot diameter circle 1 to 2 feet wide of diatomaceous earth in and around any vents, so they will have to cross it to leave the nest. Other vents may appear the next day or night as new vents are built to avoid the insecticide put down the night before, so treat as required. Also spread the insecticide and diatomaceous earth around the plant targeted the night before and any other plants of the same type. Diatomaceous earth is also approved for organic use.