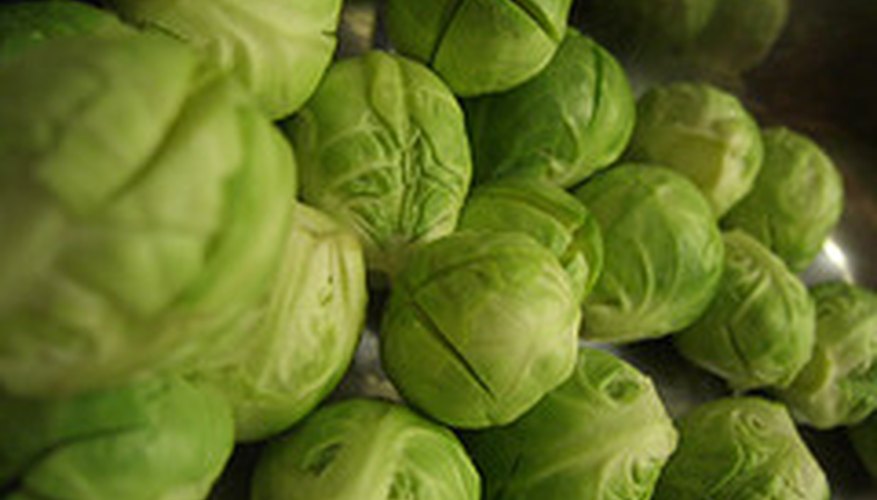 Brussels sprouts are one of those vegetables you either love or hate. If you love them, you are disappointed that you can't find them available in the grocery store more often. These tiny cabbage-like vegetables are slow growing and are ready to harvest as the weather turns cold in late fall and winter. Brussels sprouts grow best in a cooler climate, at or below USDA plant hardiness zone 5.
Plant the Brussels sprout seeds indoors or in a greenhouse, if you have one, in mid summer. This will be approximately 5 to 6 weeks before transplanting the seedlings outdoors.
Prepare your garden soil by mixing in compost in a location that receives full sun. This will provide a nutrient rich soil for the seedlings. It also creates a well-drained soil so that water does not sit at the roots of the Brussels sprout plants.
Create mounded garden rows with your hoe. The hoe should make two deep indentations a foot apart as it is pulled to make a row with the soil mounding in the center.
Plant the seedlings 2 to 3 feet apart in the mounded row when they are approximately 3 inches tall. The plants need plenty of room. Place cutworm collars around the seedlings to repel pests. You can find these at nurseries, garden centers or online.
Water your plants enough so that they stay moist but not sopping. The amount you water will be due to the climate of your location. Check the soil an inch down at the bottom of the moat for moisture, daily if temperatures are on the warm side.
Remove yellowing leaves under the Brussels sprout buds as they appear.
Pick the Brussels sprouts when the buds are 1 to 2 inches across. They should feel firm to the touch. You may use a sharp knife to cut the buds at their base. Remove any leaves that may be attached after picking them.