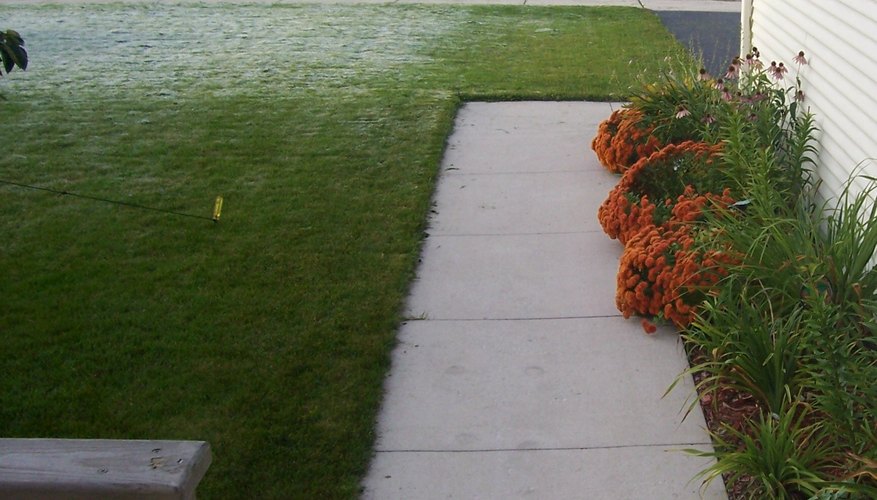 The chrysanthemum first appeared in China in 500 B.C. and later became known as the official seal of Japan's emperor. When Europe started growing "mums" during the 17th century, though, gardeners had to develop winter care practices to keep this hardy perennial growing. Florists' chrysanthemums are often not suitable for the garden because they are bred in controlled climates. Hardy mums sold at garden centers, winterized properly, can survive most winters to produce several plants the next season.
Choose the right plants to winterize. Mums planted in full bloom in the fall often have little time to develop roots. No matter how hardy a plant is, it needs time to "grab" the soil in which it grows. Concentrate your efforts on plants that have been growing all season in the garden. Choose healthy plants in sunny locations growing in well-drained soil covered with blooms. Plants sitting in soggy locations will freeze their toes over the winter and perform poorly next spring.
Cut plants back after the first hard freeze. They'll probably be blooming along happily but within a week or so when the ground starts to freeze, they'll begin to fade. Cutting them back after the first hard freeze allows them to concentrate their efforts on root growth rather than flowering. You'll also be able to enjoy pitchers-full of mums indoors for days.
Leave three to five inches on each stalk, leaving a few leaves in place to gather the waning sunlight of autumn. These stalks will die all the way down during the winter and you can break them off next spring. During the winter, they'll hold mulch and distract rodents searching for tasty shoots and roots to eat.
Note where new plants are starting on the clump at the bottom of the stalks you have just cut down. Although these specific shoots may die back over the winter, they are indicators of healthy growth that will become a new plant next spring. Healthy mums usually "set out" three to five new plants every spring. The clump should not mound out of the ground but sit just under the surface of the soil.
Remove the light summer mulch after the ground begins to freeze and cover one-year-old plants with an inch or two of winter mulch composed of compost, leaves or evergreen branches. The object is not to keep the plants warm but to keep the temperature uniform so they don't start growing shoots on a sunny day only to be frozen back at night.
Water your plants well. Chrysanthemums need moisture all winter long. If they don't get a good snow cover, they may need to be watered in late winter, too, as soon as the soil will drain properly. Mums are grown over such a large range that no absolute dates can be given. Just make sure they don't dry out completely.
Things You Will Need
Garden shears

Winter mulch

Small rake or hand cultivator

Water

Vases
Tips
Established mums may not need winter mulch in your climate zone if you live south of zone 4.

Don't use "rose cones" on chrysanthemums. Your plants will bake on sunny days or produce premature offspring that will be doomed to wither in the depth of winter.
Warnings
Check any flowers brought inside for bugs and wash foliage well before setting vases of pruned branches near your houseplants. Pests seek out plants that are actively growing as good shelter on frosty nights.

Mums cannot be brought inside the house and grown all winter like geraniums--they need a rest period to gather their strength and start new growth.

If your mums are planted next to a walk and are covered by snow all winter, avoid using salt or de-icer where it may get into the snow cover.
Resources