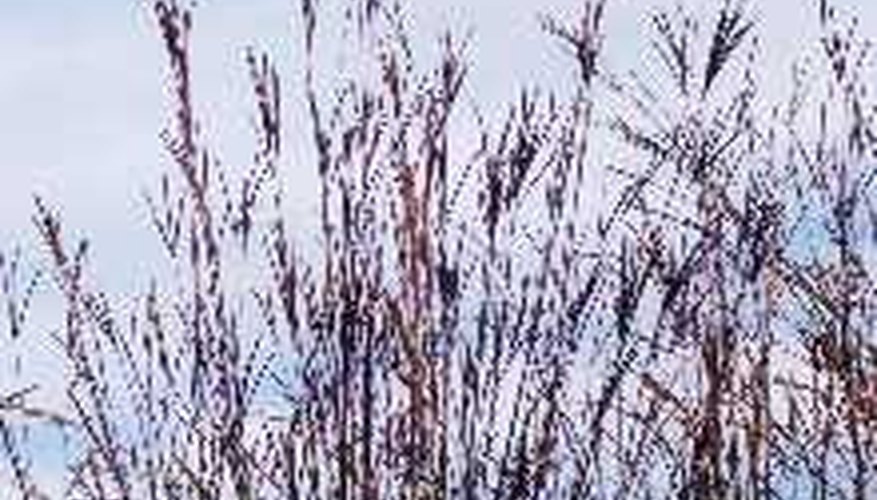 Growing big bluestem (Andropogon gerardii) generally is easy. As the dominant grass in Midwestern tallgrass prairie, big bluestem is found throughout the Midwest, but it is prevalent in many other areas as well. In fact, it can be found throughout the United States, with the exception of the Rocky Mountains and points west. Thus, it also is one of the better distributed native grasses.
Caring for Big Bluestem
Prepare the site. As a warm-season grass, big bluestem growth can be stunted by cooler-season varieties that mature quickly and may choke out the later maturing grass. Getting rid of cool-season grasses is essential. Gramoxone or glyphosate can be used to kill grass. The fall is the best time to do this, but it also can be done at least 21 days before seeding with big bluestem.
Plant big bluestem once the soil temperature reaches a consistent 55 degrees. This is usually from April to May in many areas, though in the South this may be nearly year round in some parts. Generally, if it is comfortable enough to be outside without a jacket, it is comfortable enough for big bluestem to germinate properly.
Water properly. As with all grasses, big bluestem may need early watering to ensure proper root development. As the grass matures it will survive without watering. Big bluestem roots can grow as deep as 12 feet, making it very drought resistant.
Use a fertilizer. Though big bluestem is capable of growing naturally, fertilizer will help if it is the desired species, especially if the purpose is for grazing. The fertilizer should be a standard grass fertilizer with nitrogen, phosphorous and potassium (N-P-K). Nitrogen should be the dominant element provided.
Protect big bluestem grass over harsh winters by leaving it at least 6 inches long. Though the grass will die, it will provide insulation for the seed that's left behind. In this way, the grass should be able to last almost indefinitely.
Tip
Planting can be done with a spreader or a drill.
Warning
Planting big bluestem too soon after using a herbicide could kill the grass.