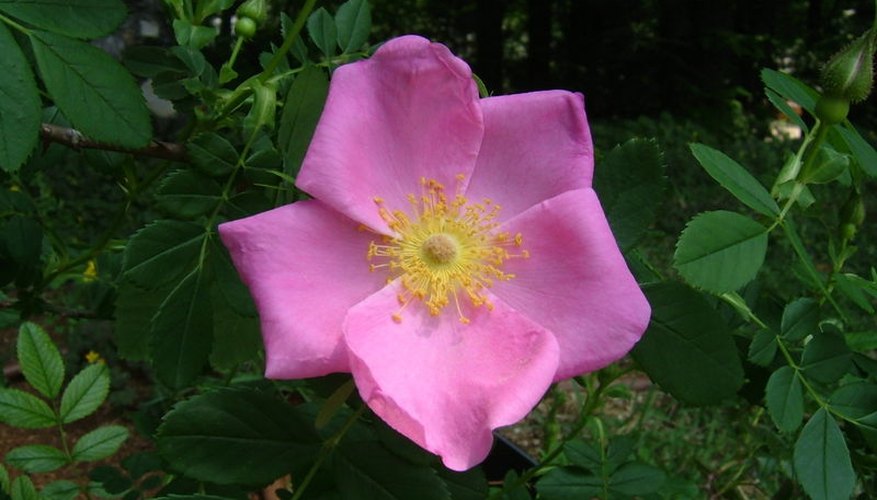 Grown widely in the Midwestern and northeastern U.S. and southeastern Canada, the Virginia rose is a type of flowering shrub related to the tea rose. The flowers are usually pink with yellow centers, and the shrub can grow up to 6 feet tall. The Virginia rose also produces large rosehips that can be used in teas or medicines. Yearly pruning of a Virginia rose plant is necessary not only to shape the plant, but also to remove dead and diseased growth and encourage good air circulation and better exposure to sunlight.
Clean your pruning shears in a 50-50 solution of bleach and water to remove any bacteria or fungi that could infect the rose plant. Virginia roses are quite susceptible to disease.
Prune Virginia roses in the late winter or early spring when the first red buds start to show. Wear heavy gloves and long sleeves to protect your hands and arms from the thorns.
Cut and clear away dead and dying branches first. Next clip off all branches smaller than ½ inch in diameter. Make the clips close to the main canes, but be careful not to cut the canes themselves.
Trim a half or a third of the new growth off the top of the Virginia rose plant. This shapes the plant and will help increase the amount of light lower parts of the plant get. Don't cut into the older, woodier canes of the plant when you're pruning the top.
Check near the bottom of the plant for any new canes starting up. Prune away the new canes, as well as any dead or weak-looking ones.