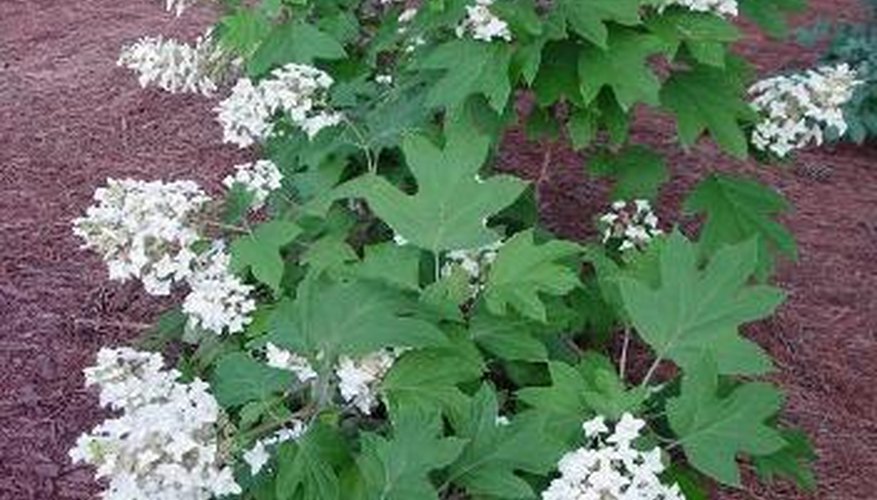 The oakleaf hydrangea is one of the few hydrangeas native to the United States." Deriving its name from the shape if its leaves, the white cone-like blossoms for this hydrangea come in two forms, the single or double blossom. If the oakleaf hydrangea in your yard is not blooming, it might need to be transplanted to a better location.
Select the site for the hydrangea. They can tolerate full sunlight only in northern areas. In the South, they do best with morning sun and afternoon shade. They need to be sheltered from cold winds, which can damage the embryo blossoms.
Prepare the soil a month before transplanting. Dig it up, remove rocks and add generous amounts of compost or well-rotted manure.
Transplant the hydrangea in the late fall or winter, when the plant has lost all of its leaves and is in the dormant stage. If you transplant a hydrangea any other time, it will require extra water and care.
Dig up the hydrangea, being careful to get as much of the roots as possible. You might need someone to help, due to the size of some of the mature plants. If it is too large to carry, place the shrub in a wheelbarrow to move to its new location.
Dig a hole in the new location. It needs to be big enough to cover the root ball, while not covering any of the canes.
Place the hydrangea in the hole and add soil around the root ball. Tamp the soil gently to remove air pockets. Cover the soil with a 2-inch layer of mulch.
Water the soil thoroughly. According to Hydrangeas Hydrangeas (see Resources): "If you transplant while your hydrangeas are dormant (the best time), water them deeply one time. They may need no more water until spring when warmer weather arrives. After transplanting, hydrangeas must be kept watered very well the first and second summer. If the leaves wilt and the soil is moist enough, mist the leaves each day until they recover."