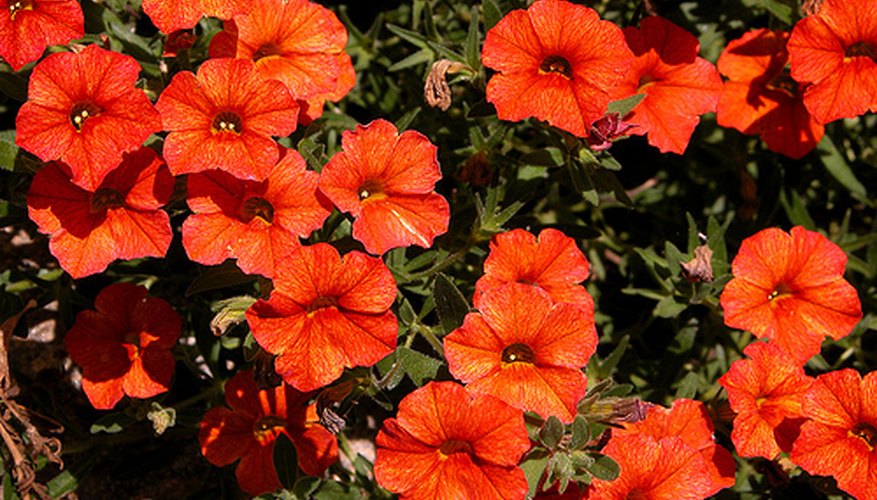 Calibrachoa, also known as Million Bells, is an herbaceous flower native to South America. It is grown as a perennial in mild climates but is more commonly used as an annual in areas with cold winters or intensely hot summers. Calibrachoa's common name is derived from its bell-shaped flowers which range in color from pink, purple and magenta to pink and deep red. The plant is a prolific bloomer and reaches the peak of flowering in the spring and summer months, depending on climate. Low-growing and self-cleaning calibrachoa is easy to grow in the home garden with only minimal care.
Plant calibrachoa in spring after all threat of frost is over. Choose a planting location with well-drained soil that receives full sun to light afternoon shade. Dig a planting hole the same size as the container in which the plant was previously grown, set the plant inside and cover gently with soil.
Water calibrachoa plants immediately after planting to compact the soil, and continue watering twice per week during the growing season. Do not water on weeks which receive at least 1 inch of rainfall. Water every 2 to 3 days during dry periods or in very hot climates.
Apply a 1-inch layer of light sand around the base of calibrachoa plants if grown in heavy soil. This will keep the surface dry and prevent fungal diseases. Mulching is not necessary if calibrachoa flowers are grown in light, airy soil.
Feed calibrachoa plants once per month during the spring and summer months with a balanced flower fertilizer. Do not over-fertilize, as this can contribute to sparse blooms and leggy growth. Refer to the manufacturer's instructions for proper dosage and application of fertilizer.
Remove dying or damaged leaves as soon as possible to promote healthy growth. Calibrachoa is prone to stem and root rot if planted in poorly drained or heavy soils. If rot occurs, remove affected plants and discard immediately. No other pruning or deadheading is required.
Tip
Calibrachoa make great container plants, and trailing varieties are available for hanging baskets. Set outside after all danger of frost has passed and follow the same general care instructions for bedding plants. No mulching is required for container grown plants.
Warning
Do not allow water to come in contact with foliage while watering because this can contribute to the development of fungal diseases such as powdery mildew.