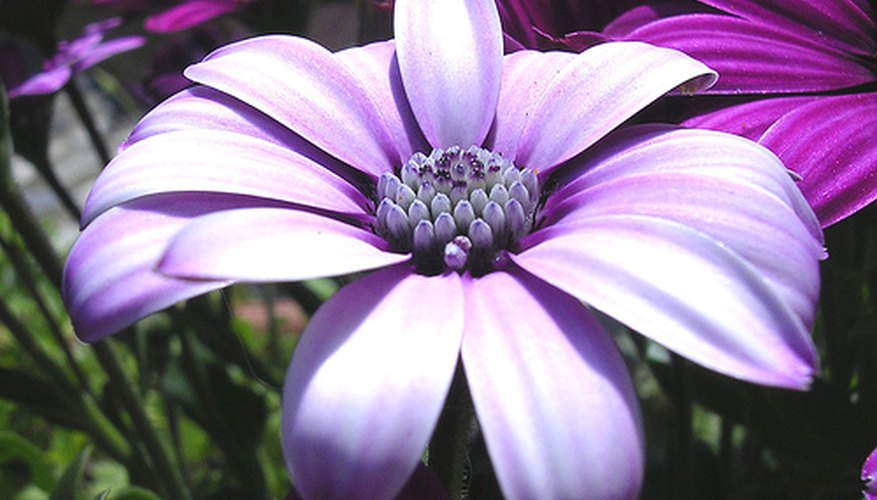 Violets belong to the Viola family along with pansies and Johnny-jump-ups. The varieties of violets are many, and they relatively easy to grow. Violets prefer shaded areas, so they are candidates for under plantings in perennial flower beds. Violets come in two types: One flowers directly from the clump of rhizome and the other produces a stem. Neither type grows more than 2 inches tall. Violets will start to flower in late spring and can continue through the summer in some gardening zones.
Chose a location for your violets. These plants prefer a partially to fully shaded area. Plant in the spring after the last chance of frost.
Prepare the soil by digging a hole twice the size of the violets' clump of rhizome. Keep holes for the plants 2 to 3 feet apart because the violets spread.
Replace half of the removed soil with compost.
Place the plants in the ground at the same level as they were in their containers. Water before replacing the soil. Cover half the clump and water again to prevent air pockets. Fill in the rest of the hole and press down tightly around the plant.
Water to keep the soil moist. The plants should never sit in a puddle of water, but the soil should not dry out. Covering the soil with mulch will help to keep it moist and prevent weeds.
Pinch off dead flowers heads so the plants continue to bloom. Violets will bloom in the winter until the temperature drops below freezing. Leave the last of the flowers, allowing them to seed, and you will have new plants the following year.
Cut out creeping rhizomes when the garden has filled out with enough violets.