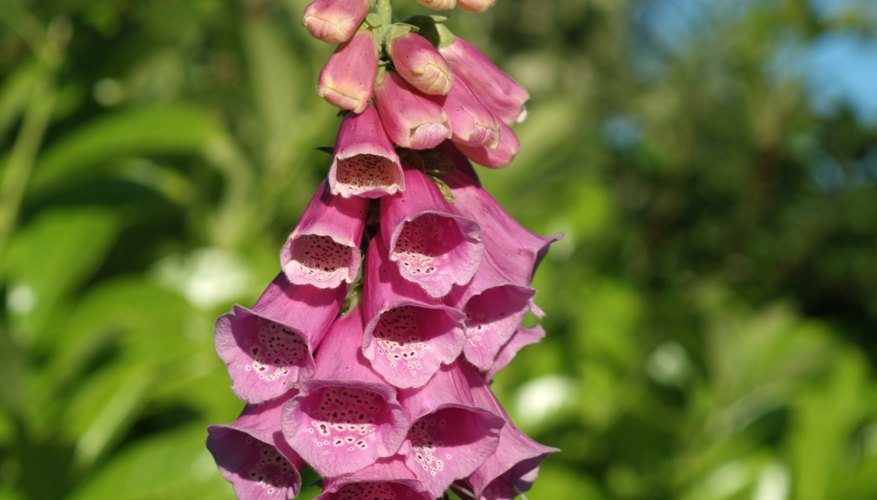 Common foxglove, also called digitalis, offers gardeners a lovely cup-shaped flower on a bright green tall stalk. These bells form on alternating sides of the center stalk, creating a ladder of color on these taller biennial flowering plants. Common foxgloves frequently grace traditional cottage gardens because this plant provides colorful height along fences and walls. As with all plants, successfully winterizing common foxglove requires good plant care throughout the growing season.
Care for the plant properly throughout the summer growing season by providing regular water and a good environment. Common foxglove prefers shade and evenly moist soil. These biennial plants will present prolific seeds under the correct conditions.
Never allow the soil to dry completely around the foxglove, including in the spring or fall. Water near the base of the plant instead of sprinkling the leaves to prevent evaporation. Don't make the soil soggy but instead, water enough so that you can push your finger into the soil easily.
Allow common foxglove flowers to fade toward the end of the growing season. Don't clip off dead foliage or flowers because the plant must make seedpods. Simply allow the plant to die back naturally and drop foliage to the ground.
Collect the seedpods and place them in a brown paper bag and store in a cool, dry location until the following spring. If you prefer, let the plant do its own self-sowing to create new plants. The seedpods will burst individually as they dry and fall to the ground. In the best conditions, these seeds will appear as new growth the following year.
Prune back foliage, stems and flowers to 4 inches above ground level after seed collection. Collect all discard stalks, flowers and leaves and dispose of these appropriately. Removal of plant clippings from the garden discourages rodents and other pests that chew on tender plant stalks.
Apply a very light layer of protected mulch to a depth of 3 to 4 inches to help maintain an even soil temperature. You just might be able to get more than two years out of a common foxglove plant during a mild winter.