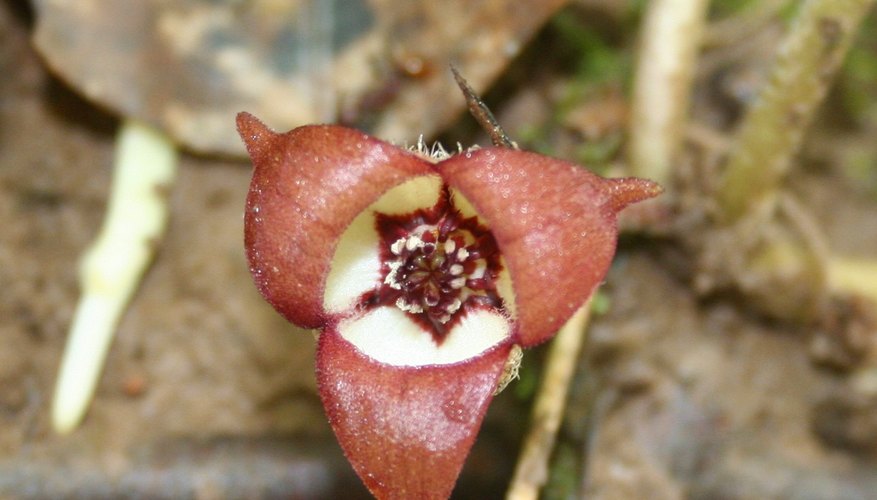 Canadian wild ginger, also known as Asarium canadense, grow in low-lying, wide-spreading clumps. Their leaves are fuzzy, heart-shaped evergreens and their tiny, cup-shaped flowers hide beneath the leaf cover in spring.
Although Canadian wild ginger does bear a tangy, sweet taste reminiscent of the ginger used in cooking, the flower is most often used as ground cover in a shady wildflower garden. However, Canadian wild ginger can be used as a ginger substitute in an emergency.
Find the appropriate spot in your garden to best plant Canadian wild ginger. The flower needs to be shaded and will burn and die off in full sun. Choose an area that will allow the flower to spread. Most flower clumps spread 12 to 24 inches across and need to be divided and replanted every Autumn.
Obtain an existing plant from your local garden center. Canadian Wild Ginger is easily grown from existing divisions of the plant. The seeds are difficult to germinate and are extremely slow-growing for the first two years.
Using your hand shovel, dig a hole to match the depth and width of the container the ginger came in.
Separate the flower's roots before placing it in the ground. The roots do not need to be pulled apart. Simply rub the bottom of the roots with your hand until the roots are no longer in a cylindrical or container shape.
Place the plant in the ground and cover any exposed roots. Water the plant immediately after planting. Wait for the soil to settle and recover any exposed roots.
Mulch the area to conserve moisture. However, ginger is susceptible to snails and slugs and those creatures love to live in the moist area underneath mulch. In order to keep your plants moist and bugs away, place an opened and full beer can in the garden. You will have to dig a hole for the can so that the opening is not far from the ground. The bugs will be attracted to the fermented smell of the beer. They will climb to the opening, fall in and trap themselves.
Apply a balanced fertilizer each spring and divide new clumps each autumn. Take sections from the edge of the parent plant and replant these at least 12 to 24 inches away.