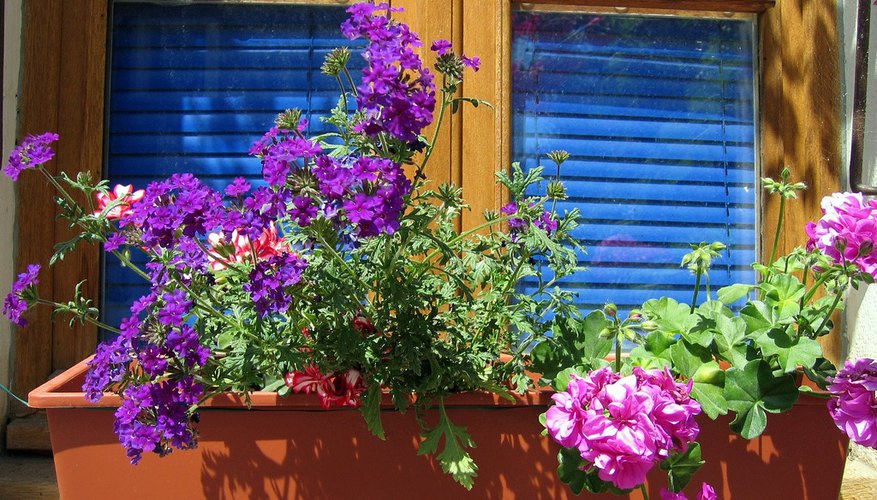 Window boxes, dripping with lush cascades of flowers and foliage, add charm to any house. Stick with short and draping plants--anything over 8 inches tall will block your view--and choose plants in compatible colors. Keep the boxes within easy reach for watering and maintenance. Be sure the windows are structurally strong enough to support a heavy box filled with dirt.
If your window box is not empty, remove everything from it. Wearing gloves, disinfect the window box with a mixture of 1 cup of bleach to 1 gallon of water to prevent the transmission of plant diseases. Do not splash the bleach mixture on your clothes. Let the window box dry overnight.
Paint or varnish the outside of the window box. Plants are affected by chemicals, so try to find non-toxic, eco-friendly paint. Let the window box dry thoroughly.
Drill holes in the bottom of the box for water drainage. Make the holes 1/8 to 1/4 inch in diameter. Make sure that any existing holes are free of debris. Window boxes need good drainage so the flower roots do not sit in water and rot
Cover the bottom inside of the window box with a mesh screen to hold the dirt inside the planter. Do not use rocks; they will increase the weight of the window box.
Fill the window box with a lightweight soil mixture. You can purchase lightweight soil mixes in garden stores, or create your own by mixing 1 part peat moss, 1 part perlite and 1 part compost.