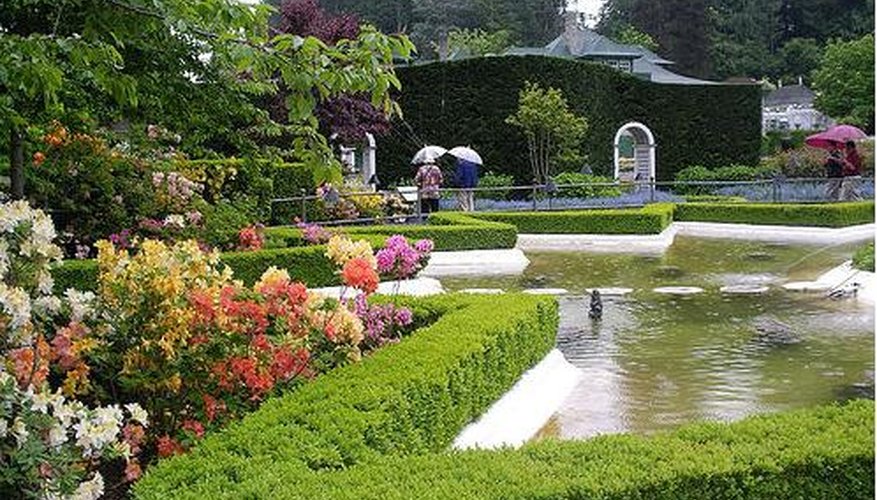 Providing both ground cover and aesthetic appeal, home gardens promote a relaxed outdoor lifestyle pleasing to any homeowner. When initially planning a garden, there are many factors that must be considered before the actual plants are ever placed in the soil.
Determine the desired type of garden. The three typical garden options for average-sized yards include flower, herb and vegetable plots. Each of these gardens requires different treatments and fertilizers, so it is important to account for the differences with deciding upon the style to implement. If you're creating both flower and vegetable gardens, consider where each portion will be placed in the overall landscape.
Research the local climate. Factors such as temperatures, rainfall, direction of the home and yard and local animals should all be considered when planning a garden. Gardens where such factors are not considered run the risk of plants failing because of harsh climates or improper sun exposure.
Determine the types of plants for the garden. If you're located in an area with extended growing seasons, take into consideration plants that will bloom for longer durations. Moreover, if you desire an annually blooming garden in an area where the growing seasons are short, consider some early blooming plants to maximize the season. Take into consideration the climate when choosing flowers, as some will not thrive in certain climates. For example, cactus and succulents thrive in desert areas such as Arizona, but they will fail because of root rot in regions where the whether is humid and rain constant.
Use a level to determine the overall angle of the yard. If the yard is angled in a particular direction, be sure to take this into account, as water will run into that area and can cause potential flooding and root rot if it's not carefully monitored. If you want to even out the yard, soil fillers such as sand and mulch can provide a foundation, which can the be covered in nutrient-rich topsoil where necessary.
Test the soil to determine any deficiencies and treat the soil accordingly before planting. For example, if the soil is low in potassium, obtain potassium powder from the local gardening store and sprinkle over the soil. Nutrients can be further mixed into the soil with the use of a rake.
Create a chart of the anticipated garden, taking into account the overall growing space and the required area for each plant. Crowding plants will result in unsatisfactory blooms or harvests, as the plants are unable to create the necessary root system required for nourishment absorption.
Plan out any beds, edging, and trails that will be placed in the garden to allow for ease of access and viewing. Determine whether these features will be permanent, using bricks or stones, or whether they will be fungible through the use of edged trenches and bark paths. If planting any grass as a land cover, consider utilizing a more permanent path to prevent grass from moving into the beds.