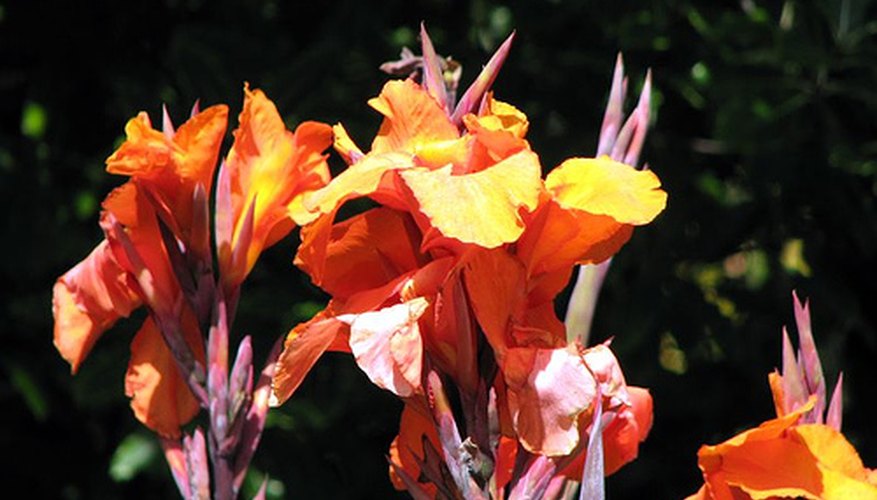 Canna lilies are tender perennials that bloom in the summer with vibrant colored blossoms. The foliage on any canna variety is also beautiful and includes dynamic shades of green, bronze, purple and scarlet. Most canna varieties are hardy from zones 7b to 11, if you cover them with thick mulch. But anyone can grow these beauties if you take them up and store them over winter and then re-plant them in the spring after the last frost.
Test your soil to ensure that the pH levels are between 6.0 and 7.0. Flowering plants will perform their best under these conditions. Add lime to the soil if you need to increase the pH; follow the guidelines from the soil test to determine how much lime to add.
Mix compost into your flower beds where you plan to grow the cannas. Rake the mixture in so that the compost is not only on the top of the soil.
Plant your cannas 2 to 3 inches deep. Place the rhizomes horizontally in the ground with the eyes facing up. Leave 6 to 24 inches of space between the rhizomes, depending on how thick you'd like the cannas to grow.
Water the soil over the rhizomes immediately after planting to moisten it rather than to wet it. Add a 3-inch layer of organic mulch over the cannas to help keep the soil moist. When the plants begin to grow, they will tolerate wetter soil. Fertilize the growing cannas with water soluble fertilizer every third watering.
Remove the foliage and dig up the cannas before the first frost. In areas where the ground rarely freezes, you can let the first hard frost take care of the foliage before you remove the cannas from the ground. Cut away the dead material and leave soil around the roots of the plant.
Place the entire root ball into a plastic bag. Cover any of the roots that are bare with peat moss. Fold the bag over loosely and store the cannas in a cool place for the winter. Keep the canna roots moist over the winter, but not wet.
Replant your cannas in the spring, after the last frost.