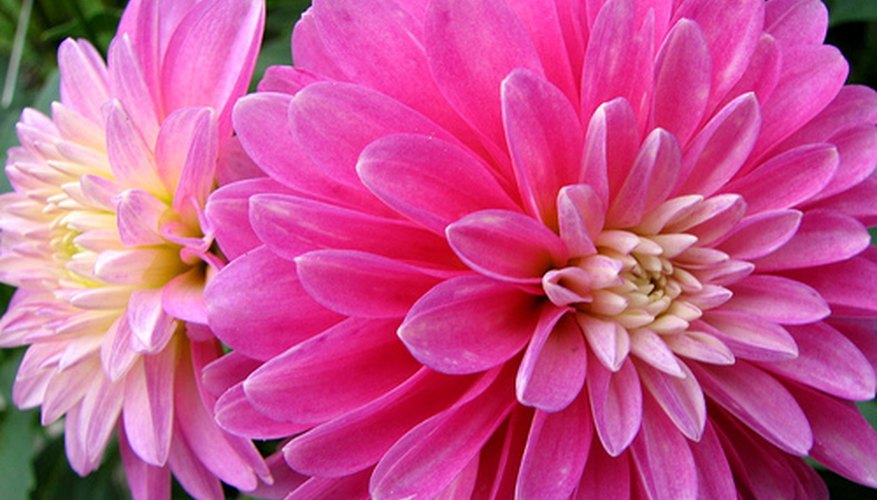 Summer flowers such as lilies, dahlias, begonias, freesia and gladiolas bloom from bulbs, rhizomes and tubers that you can plant in the spring. You should always wait to plant your summer flower bulbs until after the last frost date for your location has passed. The exception to this rule is if you are planting bulbs in containers that you plan to leave indoors or on the patio.
Test the soil where you plan to plant your bulbs. Flowers enjoy a pH level of 6.0 to 7.0. You can add lime to the soil to increase the pH; the results of your soil test will indicate how much lime you may need.
Measure the height of the bulbs you are planting. Dig a hole in your garden that's twice as deep as the height of your bulb. Insert the flower bulbs into the hole with the pointed or sprout side facing up.
Cover the bulb and fill in the hole with soil. Different flowers have different spacing requirements for optimum growth, so follow the spacing recommendations for the type of flower bulbs you are planting.
Water your bulb garden well when you first plant the bulbs. Add a 3-inch layer of organic mulch on the soil over the bulbs to help hold in the moisture. Summer bulbs enjoy a lot of water, immediately after you plant them. Keep the soil in your bulb garden moist for the first week, watering every morning and evening. After the first week, water the bulb garden thoroughly, once each day.
Things You Will Need
Soil test

Lime

Measuring tape

Garden spade or bulb planter

Mulch
Tip
Plant bulbs closer together in containers than you would in a bulb garden so you'll have a fuller showing of flowers. You can start your container bulb garden indoors anytime, just make sure that you provide adequate lighting and moisture so the bulbs will grow.
Warning
Depending on your planting zone, you may need to take up your bulbs in the winter and plant them again the following spring.
References
Resources