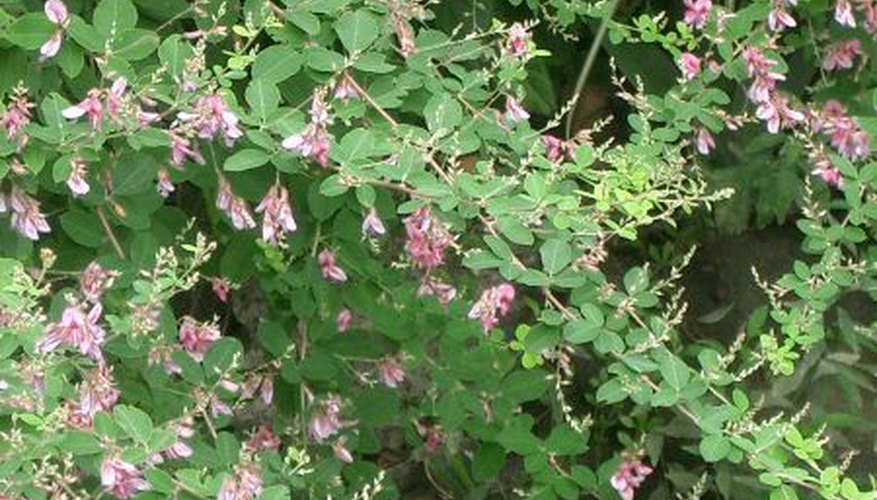 Shrub lespedeza is a flowering perennial sub-shrub known botanically as lespedeza bicolor. It has a fountain-like growth habit with long, thin and arching branches that bear multiple flowers between deep bluish-green leaves. It blooms in pale pink, violet or cerise pink from mid-summer through fall, and is hardy in USDA zones 4a through 10. Prune to control the shape and size of your lespedeza, and to remove damage. Pruning is not required for growth or bloom.
Prune your shrub lespedeza for maintenance and tidiness throughout the growing season each year. Inspect once a month for branches and foliage that have been damaged, are diseased, abrade one another or have browned and died. Cut back each branch down to its base, pulling it clear from the canopy and discarding it. Pull loose leaves and spent flowers from the shrub canopy to maintain a neat appearance and prevent disease.
Prune your lespedeza for shape, height and spread each year, as needed, in the early spring before new growth appears. Establish the desired height by cutting the tips of the branches in a plane or naturalized form. Thin the interior and shape the sides of the shrub. Pause between every few cuts to observe your progress and ensure you are creating a pleasing symmetrical shape.
Hard prune your lespedeza down to the crown of the plant when necessary to rejuvenate the shrub after damage or longtime neglect, or to re-size the shrub. Hard prune only in the spring after the last hard frost, but before new growth is visible. Use loppers to shear off all branches approximately 6 to 12 inches above the soil.
Things You Will Need
Long-handled loppers

Garden gloves
Tip
Always water after pruning to reduce stress on the shrub, speed recovery and fortifying the roots to produce new growth.
Warning
Wear gardening gloves when reaching deep into the center of the shrub to prevent scratches from branches or nibbles from insects.