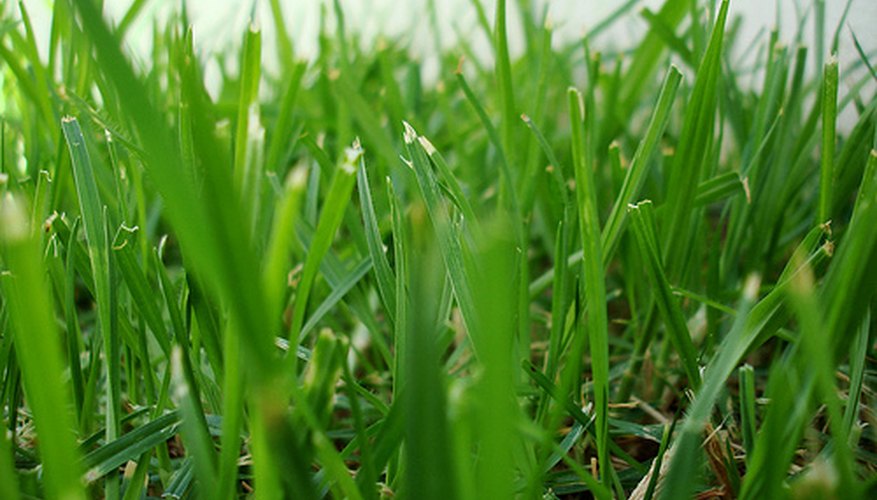 Rye grass is a versatile grass seed that has annual and perennial varieties. This cool-weather grass can be used for lawns, pastures and sports fields. In warmer locations, the seed is used to develop a green lawn in winter while other grass goes dormant. It can also be used for erosion control in fields between crops. The seed germinates very quickly, which makes it useful for bare spots in your lawn. Growing rye grass is an easy project to undertake and just about anyone can do it.
Prepare the area to be seeded. For new lawns or dead spots, remove as many weeds from the area as possible and rake the dirt. To overseed an existing lawn, score the dirt with the rake while trying not to damage the existing grass. Remove dead grass from the lawn. The rye seed must come in contact with the soil to germinate.
Spread 5 to 10 pounds of rye grass seed per 1,000 square feet for a new lawn. Use a seed spreader to evenly distribute the seed. In northern states, perennial rye can be used as a year-round lawn. In warmer areas, it can give a quick green lawn while other, slower-germinating seed takes hold. In the south, its annual seed can be planted in the fall for winter lawns, while the permanent lawn goes dormant. Many times, the seed will come mixed with perennials and annuals, to give you the advantages of both. Annual has a rougher texture, while perennial is softer and greener.
Pastures will require about 20 to 40 pounds per acre, and only use specially-developed rye grass seed. Sports fields should be seeded slightly thicker than a home lawn.
Water the seed well using a water delivery system that will evenly deliver the water over a period of time, such as a sprinkler system. Too much water in one area at a time may cause the seed to float into one area and wash another area clean of seed. Water daily for the first week while the seed germinates. Once established, watering can be cut back to when the ground feels dry. Rye grass does not tolerate drought well.
Fertilize the seed with a lawn fertilizer right after seeding and then once a month if needed. If your lawn develops weeds, use a weed and feed instead of a fertilizer alone.
Mow the lawn as the grass grows over 3 or 4 inches tall. Cutting the grass too short can result in the grass getting burned in the heat; or developing grubs, which like the moist soil under the grass but don't like to navigate high grass.