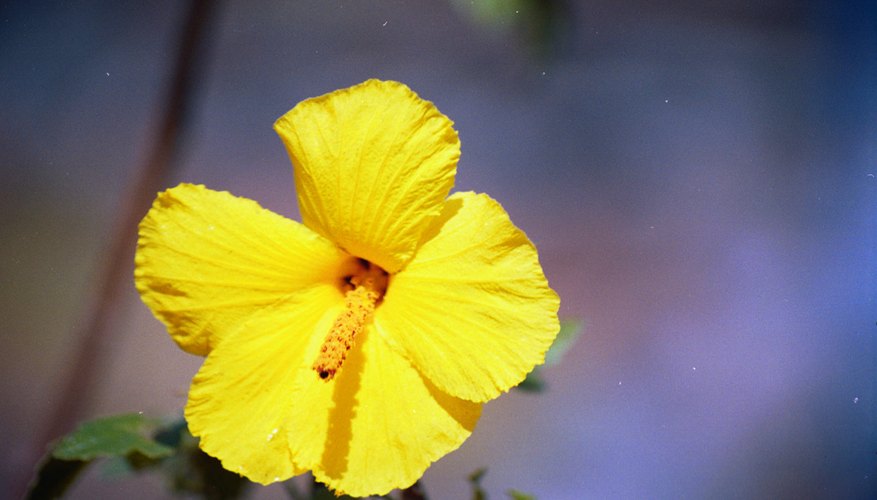 Tropical plants make up the majority of houseplants that we enjoy and which enrich our indoor environments with greenery and oxygen. It's a bit easier to grow tropical foliage plants, such as palms, dieffenbachia, philodendron and ficus. However, you can grow tropical plants that produce flowers with a little patience and some tricks of the trade. Flowering tropicals that you can successfully grow indoors or in your yard include anthuriums, orchids, perhaps gingers and plumerias, and others.
Growing Tropical Flowers Indoors and Outdoors
Plant your flowering tropicals in pots if your winter low temperatures drop below freezing. This way you can keep them outside in the spring and summer and then move them inside in the fall.
Plant flowering tropicals outdoors if you live in the southern United States or Hawaii in an area where winter temperatures never go below 32 degrees Fahrenheit. Many plants, such as cymbidium orchids, can tolerate a short period of lower temperature.
Place small pebbles in your plant saucers to help keep the humidity high. When you use pebbles, water will remain in the saucer and prevent the root system of the plant from getting waterlogged.
Put your plant on the saucer containing the pebbles and keep it in an area that receives filtered sunlight. A south facing picture window is a good indoor location, and under a tree or arbor is a good outdoor location.
Water your flowering tropical plant once each week, making sure that you give it enough water to fill the pebble-filled saucer.
Fertilize with a low nitrogen or blossom booster fertilizer in early spring, before any flowers form. Some flowering tropicals, such as orchids, require a small amount of low nitrogen fertilizer every time you water them. Specially formulated fertilizers are available for sale at nurseries and variety stores.
Things You Will Need
Young plant

Pots with drainage holes

Potting soil

Plant saucers

Pebbles

Water
Tip
Hibiscus plants and some others do better in the ground than in pots. Winter frosts will kill them back to the ground, but if you mulch around their base heavily, they should come back from the roots in the spring. In areas where the ground freezes hard, plants such as these can be killed.
References