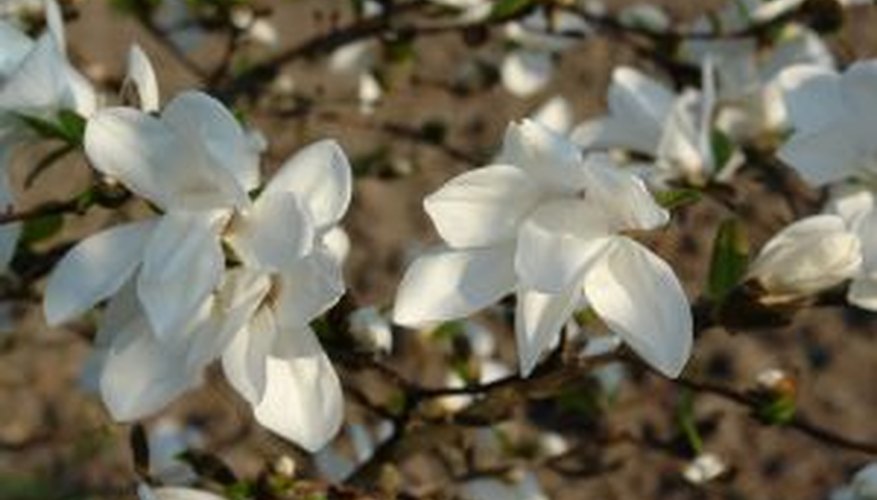 Adorned with profuse pink or white blooms, the magnolia tree adorns yards and walkways in warmer climate areas. Magnolia are traditionally thought of as being a southern tree, but there are some cultivars that grow well a little further north. Soaring to heights reaching 80 feet, the magnolia is an evergreen shade tree that flowers in the spring and summer. Caring for your magnolia tree ensures healthy foliage and flowers. Magnolias also require pruning while they are young or they quickly become unruly in just a few years.
Plant young magnolia in partial to full sun. Choose an area with average soil as the magnolia is not finicky about soil type.
Keep the soil moist at all times. Water when there is little to no natural rainfall or moisture. Over watering occasionally will not damage the tree.
Fertilize your magnolia in the spring with a general purpose flowering tree and shrub fertilizer. Avoid getting fertilizer on the trunk or any exposed roots as this may damage the tree.
Prune the tree after flowering. Cut away side stems as they form from the main trunk to avoid the magnolia producing multiple trunks. Trim the crown only for established trees to maintain the height and shape of the tree.
Rake up fallen leaves and flowers so they don't harbor harmful insects or disease. Magnolias are prolific producers of leaf litter and the leaves deteriorate on their own slowly.