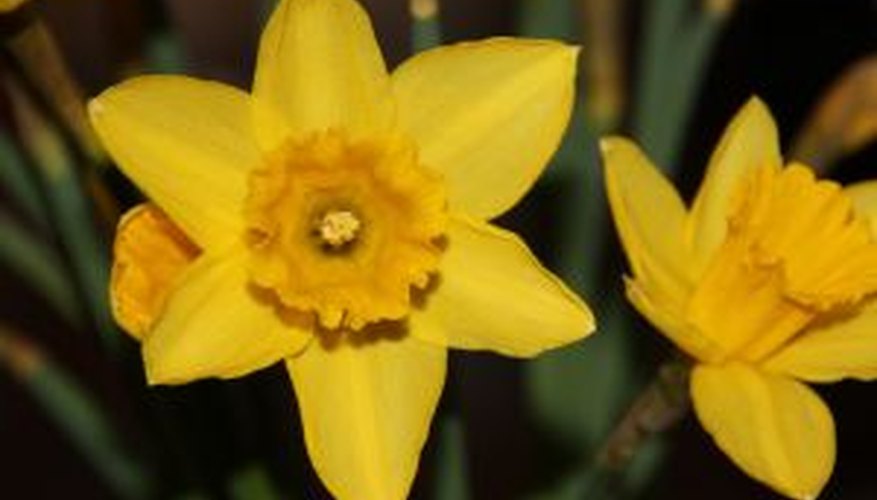 Unlike less winter hardy bulbs, there is little reason to store daffodils to protect them from cold. These bright yellow, spring flowering bulbs usually do fine in the ground. Digging and keeping the bulbs over summer until replanting in the fall is much more common. Daffodils need to be divided every 2-3 years to continue flowering well. You may also need to move them to a better bed or you might want to change your landscaping. Digging the bulbs up in summer requires them to be properly stored until autumn planting.
Allow the foliage to die off naturally in the spring. This takes approximately 6 weeks after the last flower fades.
Dig around the bulb 5 inches from where the foliage emerges from the soil. Loosen the soil then lift the bulb out with your hands to avoid damaging it.
Brush the excess soil from the bulb and roots with your hand. Avoid disturbing the roots too much when brushing away the soil.
Cut the dead foliage down to 1 inch in length with a sharp knife.
Lay the bulbs out on newspaper in a dry room out of direct sunlight. Allow the to dry, known as curing, for 1-2 days.
Fill a box with vermiculite or dry peat moss. Place the daffodils inside and store in a cool, dark place for up to 4 months.
Check the bulbs at least twice a month and discard any that show signs of rot or disease. Transplant back outside 6 weeks before the first frost date in your area.
Things You Will Need
Spade

Knife

Newspaper

Box

Vermiculite
Tips
Label the box with the variety stored to avoid confusion in the fall.

Store in perforated plastic bags instead of boxes.
Warning
Bulbs stored for more than 6 months will not be as viable as fresh bulbs.