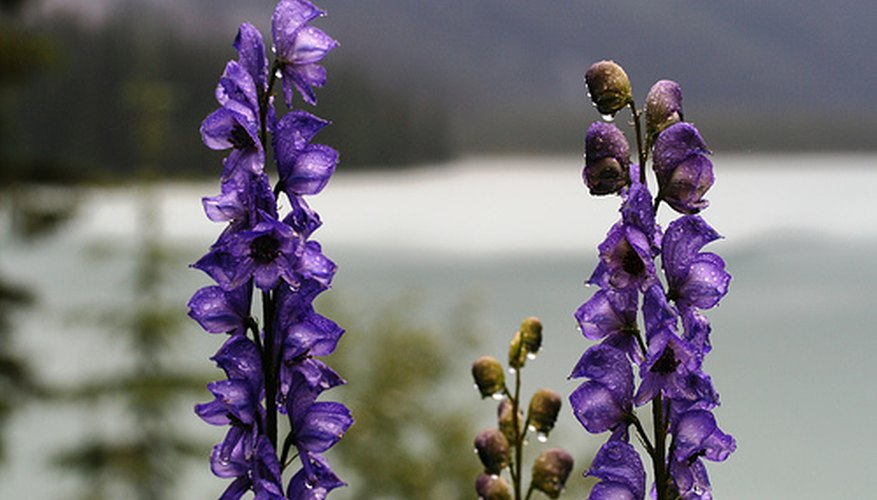 Aconitum, also known as monkshood, is a genus of herbaceous perennials native to mountainous regions in the northern hemisphere, and consists of about 250 different species. The plants grow to about 5 feet in height and bloom during the late summer and early fall. The flowers grow from tall flower stalks and are blue or violet. Aconitum plants are relatively easy to grow in hardiness zones 2 through 10, and require only routine maintenance to thrive.
Choose a location to plant aconitum that receives full morning sun and partial shade during the afternoon. Spread well-aged manure over the planting site and use a spade to incorporate it into the soil prior to planting to increase drainage and fertility.
Dig a small hole slightly larger than the root ball. Remove the aconitum from the container and carefully spread the roots. Insert the root ball into the hole and cover it with soil. Water thoroughly to compact the soil around the roots. Space plants at least 24 inches apart for the best results.
Water aconitum plants twice per week for the first year of growth. Reduce frequency to once per week after the first year. Keep the soil consistently moist, yet not soggy or waterlogged. Do not water during winter, when aconitum enters dormancy.
Combine one part compost with one part manure, and spread around the base of your aconitum plants in the spring. Spread 2 inches of mulch over the soil in early summer to suppress weeds and help the soil retain moisture. Do not allow the mulch or organic matter to touch the plant or stem rot could occur.
Deadhead any faded or dying flowers to induce secondary flowering. Use pruning shears to cut aconitum plants to half their height in fall once they reach 18 inches. This will prevent the need for staking. Blooming will be slightly delayed the following season, but the plant will grow in a more compact manner.