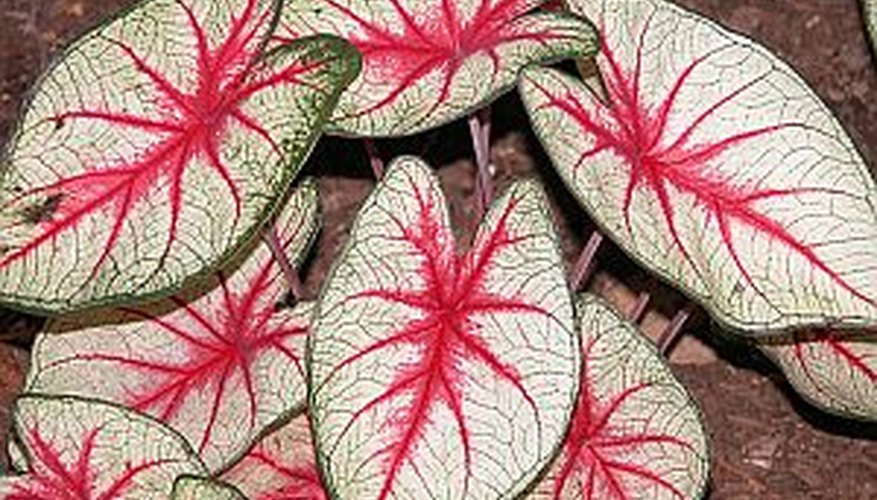 Caladium plants have striking foliage, and are native to tropical regions. Gardeners often place caladium plants in shady areas in the yard. If you live in a region where temperatures stay above freezing in the winter, keep caladium tubers in the soil over the winter. If you live in a region where temperatures fall below freezing in the winter, grow the caladium in containers and bring the plants inside over the winter. Your other option is to dig up the tubers and store them until the spring.
Bring the caladium plants inside before the first frost of autumn. Find an inside location that does not receive direct sunlight. The temperature of the room should be an average indoor living temperature. Keep the caladium plants evenly watered.
Monitor your caladium plants and expect them to enter a period of dormancy in late autumn or early winter. When this happens, move the entire container to a dark location with temperatures between 40 and 45 degrees F.
Move the caladium plants out of the cool, dark location and back into the warmer location in early spring. Replace the potting soil at this time, if desired. Place a 1-inch layer of mulch around the soil in the container to help conserve moisture in the potting soil. Give the plants water every other week and watch for new growth.
Water the caladium plants regularly after you see growth appear. Fertilize the caladium plants with a liquid fertilizer every other week, following the package instructions for the size of your container.
Place the caladium plants back outside when the weather warms, if desired, or keep them in a shady location indoors.
Things You Will Need
Caladium plants

Shredded bark mulch

Liquid fertilizer
References