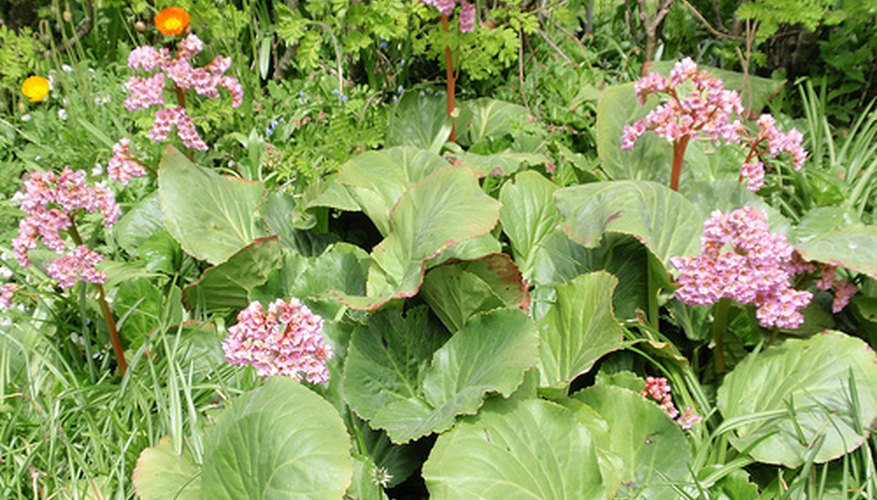 Bergenia, also known as pigsqueak, is a perennial flowering plant native to Central Asia. It is evergreen and will thrive in most conditions from sun to shade. Bergenia's huge leathery leaves have been compared to ornamental cabbage, as they form into open rosettes. Showy flowers borne on tall flower stalks bloom in early through late spring in colors of pink, red, white or violet. Foliage is medium to dark green and often tinted with red or bronze. Bergenia adds interest to a winter garden, as its leaves turn deep red or bronze in fall through spring.
Select a planting location that receives full sun to shade and has rich, well-drained soil. Full sun is recommended for bergenia only in cooler, northern climates, while partial to full shade is best in warmer, southern climates. Choose a location that is sheltered from strong winds for the best results.
Plant bergenia from seedlings or container plants in spring after all danger of frost has passed. Dig a hole that is about the same size as the container in which the plant was previously grown. Place the bergenia inside the hole and gently cover the roots with soil. Space plants about 12 inches apart.
Spread a 1- to 2-inch layer of mulch around the base of the bergenia plants in mid-fall. This will insulate the roots and protect the plants during the coming winter. Use bark mulch for best results, although grass clippings or hay are also suitable. Remove the mulch in spring and repeat in fall.
Water bergenia plants once per week to keep the soil evenly moist at all times. In dry climates or where the plant is grown in full sun, watering two to three times per week may be necessary. Never allow the soil to completely dry out or become waterlogged.
Remove any dead or damaged leaves from bergenia plants in the spring after the last frost. Cut faded flower stalks to the ground using pruning shears, and remove dried-out leaves in the summer. Do not remove foliage in the fall, as these plants are evergreen.