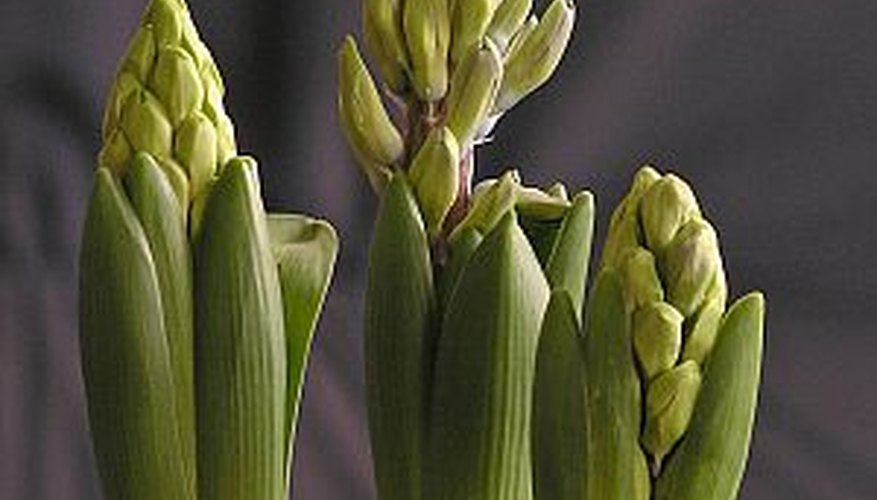 Gardeners tend to spend the winter dreaming about growing vegetables and flowers. While you dream of gardens and flowerbeds, brighten up the indoors with the living color of live flowers. Bring your flowerbeds indoors by growing bulb plants such as hyacinths inside. Botanists have the process of growing flowering bulbs figured out down to the tiniest details. Follow the guidelines carefully and you will soon have the beautiful colors and scents of living flowers around you.
Determine the time that you want the hyacinth to bloom indoors. Subtract approximately four months from this time and this is when you need to begin the process of forcing the bulbs to bloom.
Mix equal parts of potting soil, sand and compost in a large bin. Fill a container that is 6 inches deep and 6 inches in diameter with this potting mixture.
Place up to four hyacinth bulbs in the container with the tips of the bulbs just above the top of the soil. Place approximately 2/3 of each bulb under the soil. Place grape hyacinth bulbs in the soil with only 1 inch of the bulbs under the soil.
Water the bulbs generously and write down the date that you planted the bulbs.
Move the container to a location where it will be at a constant temperature of between 35 and 48 degrees Fahrenheit. Keep the container in this location for between 13 and 15 weeks.
Water the soil in the container regularly so that it stays moist. This is particularly crucial during the first month because the roots are developing during this time.
Look for evidence of root development by looking through the drainage hole in the bottom of the container. When the roots have developed, hyacinth bulbs benefit from temperatures that are a few degrees lower for the remainder of the cold treatment.
Bring the container inside when at least 15 weeks have elapsed and the bulbs have approximately 2 inches of growth emerging from the soil. Place the container in a sunny location with a temperature of between 55 and 60 degrees Fahrenheit. The hyacinth flower needs at least eight hours of sunlight each day. Keep the container evenly watered.
Watch for the hyacinth foliage to turn green with the sunshine it is receiving. The hyacinth plant should bloom within several weeks. Keep the container in a location with temperatures between 50 and 55 degrees Fahrenheit for the longest blooms.
Fertilize the hyacinth plant immediately after it blooms. Follow the fertilizer package recommendations for measurements for the size of your container. Fertilize the plant every week to keep it healthy.
Keep the hyacinth plant in a sunny location and it may be able to bloom again if you plant it outside in the spring.