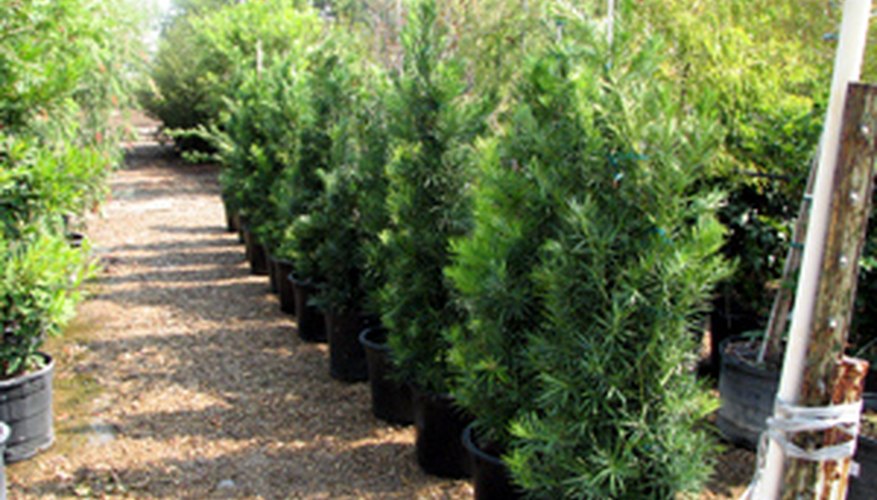 While all trees provide shade, it is the type of shade, the time of year the tree provides shade, the expected lifespan, as well as the growth habit of the tree to keep in mind when choosing the right shade tree for your lawn. An evergreen tree provides shade all year while a deciduous tree loses its leaves during the winter or extremely dry periods. Some trees provide spectacular fall color.
Choosing a Shade Tree
Look at a list of recommended native trees for your horticultural zone that includes pictures, descriptions and lifespan.
Narrow your choice of shade trees by the extent of the shade needed. Evergreen trees provide thick shade all year that will create bare spots in the lawn and mildew problems on painted areas if planted close to the house. Also, blooming plants and shrubs won't thrive in dense shade. Evergreens are appropriate for screening, but keep in mind that you may be shading your neighbor's garden after a few years of growth.
A tree that loses its leaves in winter will shade the house in summer and will allow the sun to warm the house in winter. Some deciduous trees have large leaves, big seed pods, brittle wood, invasive roots, pest problems or other messy habits that you should keep in mind when making a decision.
Look at the planned planting area from a distance to compare the eventual height and width of your chosen tree with the size of your landscape. Some shade trees can get 100 feet high with a 50-foot spread and would not be appropriate under a power line or close to a home where they could blow over in severe weather. A shade tree should be planted at least 50 feet from your home. Trees that grow up to 60-feet tall and have a spread of no more than 25 percent of your lawn area are appropriate for a typical lawn.