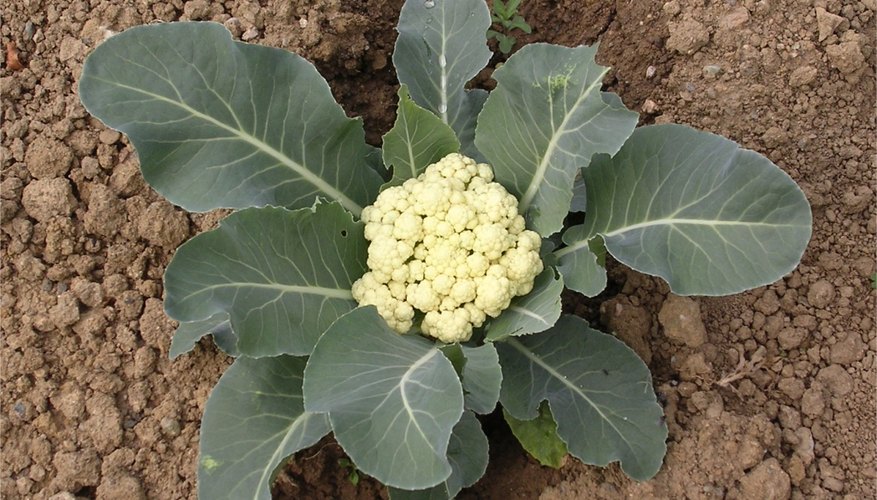 Harvesting cauliflower is fairly simple once the edible head fully develops on the plant. The ideal mature cauliflower has a tender, tight head with pure white florets. Harvest time tends to quickly follow the beginning of the head's development, so the most important thing is to monitor the cauliflower's growth each day and catch it before it begins to flower. This will ensure that the cauliflower head is not bitter or tough.
Watch for the beginning of a white head growing in the center of the plant's leaves. When the growth reaches 2 to 3 inches from the base of the plant, blanch the cauliflower to keep it from becoming discolored and bitter. To blanch the plant, gather the leaves over the top of the head and tie them together with a length of twine. Keep track of the blanching date, as it will help you determine the vegetable's harvest date.
Monitor the cauliflower's growth. After blanching, the head needs to expand 6-8 inches in diameter before it can be harvested. This should take about 7 to 10 days.
Untie the leaves when the cauliflower within 7 to 10 days of the blanching date and check the vegetable's development. The now-expanded head's buds should be tightly clustered and completely closed. If this is the case, the cauliflower is ready to harvest.
Gather two to three of the leaves around the top of the cauliflower; a few leaves should be harvested with the vegetable to keep it fresh. Slide a sharp gardening knife beneath the base of the head and gathered leaves and slice through the thick main stem.
Dispose of the remaining leaves and the main stem; cauliflower rarely develops offshoots, so the plant is unlikely to yield any more vegetables.
Things You Will Need
Twine

Sharp gardening knife
Tip
Store the cauliflower heads (wrapped in their leaves) for a couple months in a cool, dry place. If the heads start to blossom or turn brown, throw them out.