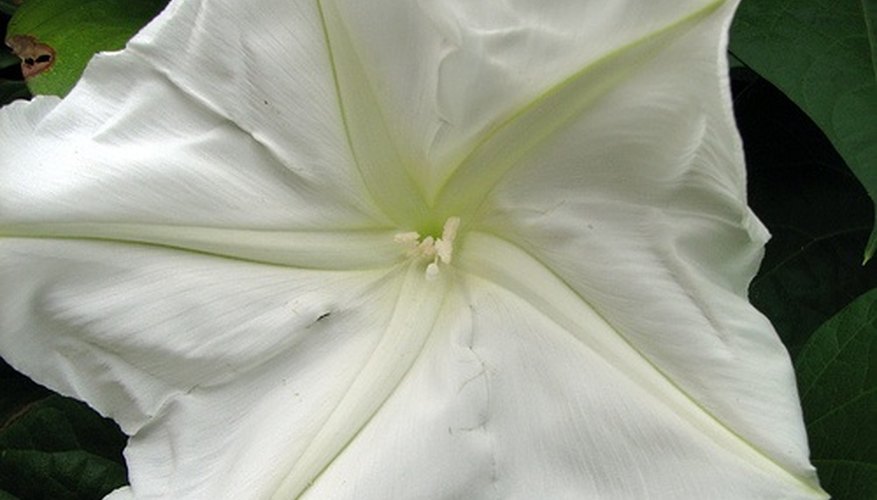 Moonflowers, also known as moon vines and moon flowers, are night-blooming, fragrant and large white flowers—up to 6 inches across—that grow on twining vines. These vines can shoot up to 10 feet in a year, producing large, heart-shaped green leaves. Moonflowers are tropical perennials, but in other places, they perform as annuals. They grow in average garden soil with good drainage and need full sun to thrive. You can grow these plants from seeds, which are about the size of garbanzo beans. The plant is suitable for beginner gardeners and grows fast.
Starting in a Pot
Rub each seed with sandpaper at the bottom where there is a brown spot, or nick the seed to make it easier for germination to occur. (Some seeds will germinate even if you forget to do this.)
Soak the seeds overnight in water.
Plant each seed about 1/2 inch deep in individual pots a couple months before the last frost will likely occur. If using peat pots, plant the seeds four to six weeks before the last frost is due. Planting in pots only gives moonflowers a head start. The plants can be directly planted outside when the soil warms.
Check the soil regularly: It must be kept moist. Keep new vines in a sunny place until nighttime temperatures are above 50 degrees and soil temperature is above 65 degrees.
Move soon-to-be-transplanted vines to a porch or other sheltered area about a week before you will put them in the ground to help them get hardier.
Ready trellises or string in the area of the garden where the moonflowers will grow. This needs to be in a sunny location that receives at least six hours of full sun every day.
Put peat pots directly into the ground. Transplant vines in other kinds of pots into the ground so that the roots are covered by garden soil. Plants should be about a foot apart.
Planting Directly Into the Ground
Rub each seed with sandpaper at its brown spot, or nick the seed to help germination along.
Soak seeds in water overnight.
Plant each seed about 1/2 inch deep after danger of frost is past, the soil has warmed to about 65 degrees and night temperatures don't fall beneath 50 degrees. The soil needs to have good drainage, but it doesn't have to be particularly rich.
Keep soil moist (not soaking).
Support new vines with string or a trellis.
Normal Care
Fertilize lightly only if needed. Moonflowers aren't fussy and being heavy-handed on fertilizer might produce leaves without flowers.
Water so that soil is moist. Moonflowers will not die if they occasionally suffer dry conditions.
Cut pods off when they turn dry and black. These are filled with seeds that can be planted the next year. Keep in a dry, dark place. Alternatively, toss the pods to the ground; the plants may reseed themselves.
Cut the vines back to about a foot tall at summer's end in case your climate allows the plant to behave like a perennial, coming back on its own in the spring. Otherwise, replant in the next growing season.