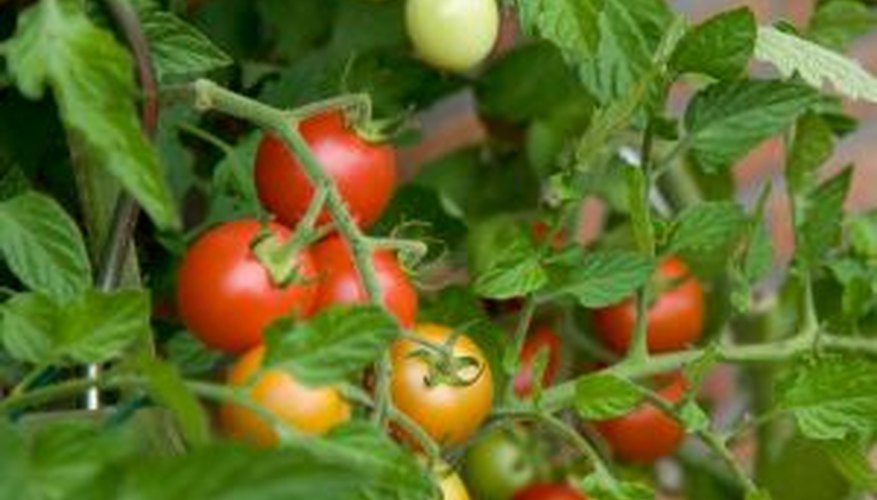 The bounty of vegetable gardens is much anticipated. Yet the weight of the ripening vegetables weighs on the plant stems and vines and may break or damage the plant. Staking is the process of lending support to plants so the crop has a chance to fully develop without causing damage. Tomatoes, beans and peas are the most common vegetables requiring stakes. Melons and squash also benefit from staking or trellising as it keeps the vegetables off the ground and prevents rot.
Install stakes behind tall, bushy plants like tomatoes and bell peppers when you place the seedlings in the garden. Use 4- to 6-foot tall stakes hammered in at least 6 inches into the ground behind the plant.
Use a trellis to support beans and peas. Place a 6-foot tall wood support on either end of the plant row but no more than 5 feet apart. Use additional supports for longer rows. Suspend wire mesh or plastic netting between the supports. Lead new vines between the mesh squares as they grow so they are self-supporting on the trellis.
Plant melons and squash near a sturdy fence or install a wooden trellis behind the plants. Tie the vines to the trellis or fence loosely with pantyhose strips or garden ties as they grows.
Tie plants that don't vine around the trellis on their own every 6 to 8 inches using pantyhose strips or garden ties. Tie tomatoes and peppers by the main stem and squash and melons by the individual vine.
Use cages over seedlings of bush varieties of beans and tomatoes. Use for varieties that don't reach over 4 feet high. Place the cage over the seedling at planting and pull the branches through as they develop.