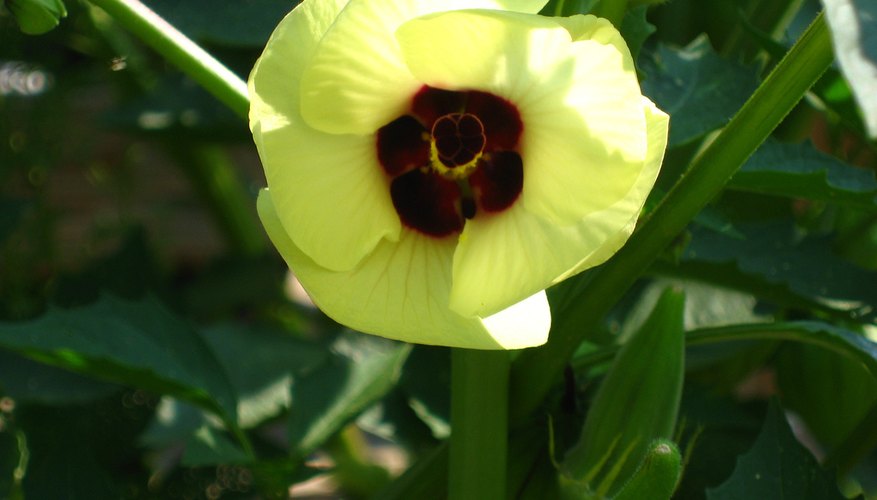 Okra is a native North African plant and a member of the Mallow family, which includes plants such as the hibiscus, rose of Sharon and cotton. It is known by many other names, including gumbo, rhindi, ramyah and ladyfingers. Okra is an annual, warm-season, tall-growing vegetable that can reach heights from 3 to 6 feet. It produces beautiful blossoms, and can be canned, added to stews and soups or simply boiled or fried for eating.
Select a location for planting that gets a minimum of eight hours of full sunlight per day. Wait until at least two weeks or longer after the last frost to plant, as okra will not do well in cool soils. The soil temperature must be over 65 degrees F to a depth of 4 inches.
Allow enough room to grow the okra plants 1 to 1 ½ feet apart. Space the rows 3 feet apart. You will be planting more seeds closer together, but this permits you to select the strongest seedlings.
Use a hoe or rototiller to cultivate the soil at least 10 inches deep. Add compost and manure to the soil with your shovel. Cultivate the compost and manure into the top 2 to 4 inches of soil.
Use your rake to smooth the surface. Remove any rocks, trash or other debris. Add fertilizer to the soil at this time, if needed for your specific soil conditions. (See Tips for more information.)
Use a gloved finger to make holes 1 inch deep in the soil. Place a seed in each hole and cover it with soil. Repeat every 4 inches on each row.
Supply around 1 inch of water a week, if rainfall does not produce the equivalent. Use drip irrigation or a soaker-hose system to water for best results.
Wait until seedlings are 3 inches tall and thin out weaker ones. Leave approximately 1 to 1 ½ feet between stronger okra seedlings.
Mulch around okra plants to conserve water and reduce weeds.
Pick ripened okra using pruning shears. Wear gloves and long sleeved shirt to avoid irritation from spines on pods.
Choose pods that are 2 to 3 inches in length. Check plants on a daily basis and remove ripe okra. Plants will continue to produce until frost kills them.