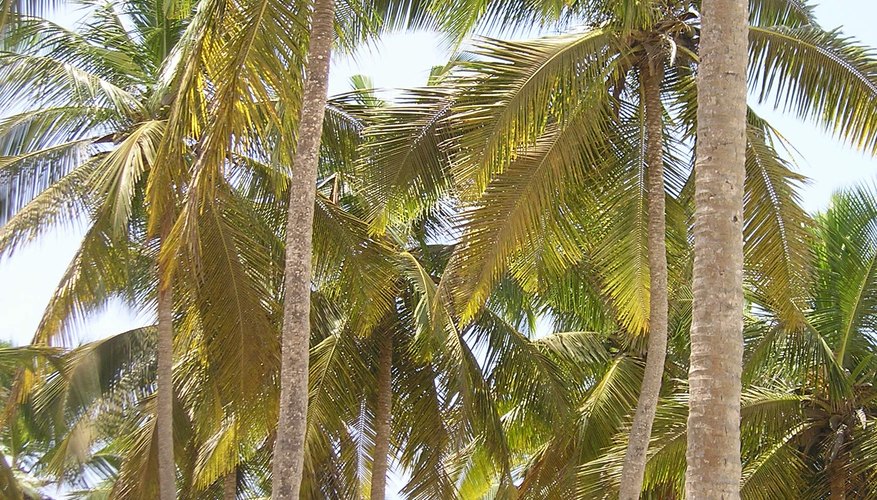 Palm trees are a well-known symbol of tropical latitudes. They provide islanders with food, water and shelter while protecting beaches from erosion. Whether you are growing a palm tree from a seed or a young plant, potted palms are an easy way to enjoy the topics in your home. Potted palms are much easier to protect from cold weather and are easily transported.
Choose a container. When choosing the correct pot size, consider the size and growth rate of your palm. Extra large containers can hold full-grown plants impressive in size. Other pots made of recyclable material can be put directly into the ground once the plants mature. Whatever you choose, be sure your pot is heavy enough to hold a tree upright.
Fill pot with a sand and soil mixture. Palms need good drainage and are susceptible to root rot when potted. Use a mixture of 25 percent sand, 25 percent peat moss and the rest potting soil to support your plant's growth.
Mist your palm daily. Potted palms especially like high humidity and need moisture to grow. Misting your plant not only keeps dust and insects away, but it keeps your tree happy. If you do not have a mister, place a shallow pan of water near your palm to allow for evaporation and high air humidity.
Keep in sunlight. Palms need lots of light to grow and do best in direct sunlight. Very young palms, fresh from germination, need only indirect light until their leaves fully mature.
Water regularly. The exact amount of water needed by your palm depends on the humidity and temperature of its environment. Generally, palms can be watered daily in summer months and weekly in winter months. Keep an eye on your plant to gage how much water is needed.
Fertilize your palm twice a year. Potted palms need fertilizer to stay healthy. Choose a slow release formula and follow the exact directions on the label.