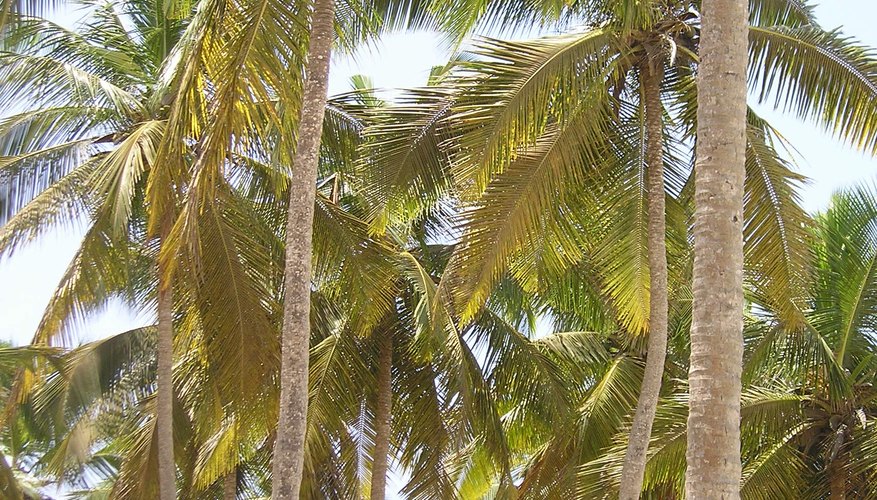 Palm trees send us right to the tropics. Their recognizable shape is synonymous with luscious forests, deserted beaches and summer tans. These days, they are increasingly popular in household landscaping projects. Palm trees can vary in price by hundreds of dollars, depending on your location. Try growing a palm tree from a seed to save money. Follow the simple steps below to start your own palm forest.
Purchase seeds. Palm seeds are available online or at local plant nurseries. Check the quality of seeds before planting by pinching them between your thumb and forefinger. Viable seeds will not collapse under the pressure.
Soak seeds in clean water for 24 hours. This initiates the process of germination.
Fill a shallow pot three quarters of the way full with potting soil. Though it is not necessary, adding up to 25 percent sand can help keep your pot well-drained.
Place the seeds close together. Give each seed ½ to 1 inch radius of space before planting the next seed. Fill the pot to the lower rim with potting soil.
Water immediately. Pour water over the seeds until it leaks out of the bottom of the pot.
Place your pot in a sunny room. Greenhouse growing is best for young palms as the humidity and warm temperatures ensure healthy growth. It is best to keep your seed away from hot, direct sunlight while it is sprouting. Place it somewhere (perhaps near a window or glass door) where it receives sufficient indirect light.
Plant it outdoors. Once a full leaf or two have grown, you can transplant your palm outdoors into a sunny, well-drained area. It is always best to plant palms in warmer months of the year.