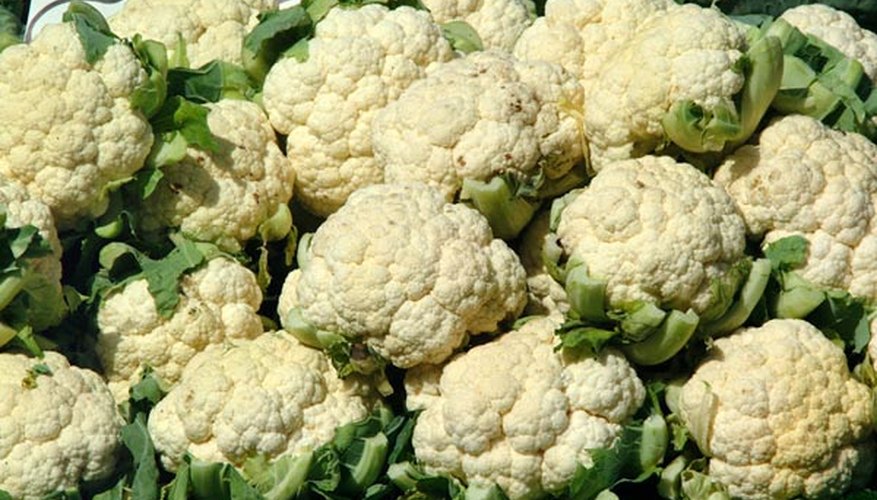 Cauliflower is a vegetable in the same family as cabbage and is the hardest member of the family to grow. Cauliflower prefers to grow in cooler temperatures but can be damaged by extreme cold—and heat. The best time to plant cauliflower is during early spring so that it can be harvested before the hot summer months. Cauliflower takes five to six months to fully mature. It takes a lot of care to grow cauliflower to maturity.
Prepare the soil for your cauliflower plants before you put them into the ground. The pH of the soil should be around 6.5, or alkaline. Fertilize the soil with a 5-10-10 commercial fertilizer one week before planting. You may have to add other minerals such as boron and magnesium if your fertilizer does not contain them.
Choose cauliflower plants that are around 6 weeks old or about 4 inches tall. These seedlings will be the best plants to transplant. Place plants approximately 12 to 18 inches apart in rows, and place the rows at least 30 inches apart.
Water plants using a starter fertilizer solution just after they have been planted. Mix together 1 cup of the 5-10-10 fertilizer. Stir the solution well and allow it to sit for a few hours. Allowing the solution to set will prevent the cauliflower plants from being shocked. Use 1 cup of the solution around the roots of each seedling plant the first time you water them.
Provide the growing cauliflower plants with plenty of nitrogen in the soil. Use 1 tbsp. of nitrate of soda per plant approximately every two weeks. Cauliflower plants also need a lot of water. Keep the ground moist, but not soggy, to ensure that the plants stay healthy. The ground should be damp to the touch. Too much water can cause the plants to suffer from root rot. Too little water can affect the quality of the plant at harvest time. The cauliflower will be smaller and flavor will be bitter.
Tie the outer leaves together over the head of cauliflower after the plants have established themselves. The cauliflower will be the approximate size of an egg. This is referred to as "blanching." If the curd receives sunlight, it will turn the vegetable green and make it inedible. Blanching will protect the cauliflower from the extreme heat and will protect it from becoming green.
Harvest your cauliflower when the head is approximately 6 to 8 inches in width. This will usually be around two weeks after you have tied the leaves together. Cauliflower will remain fresh for about five days in the fridge, or you can freeze it for long-term storage.