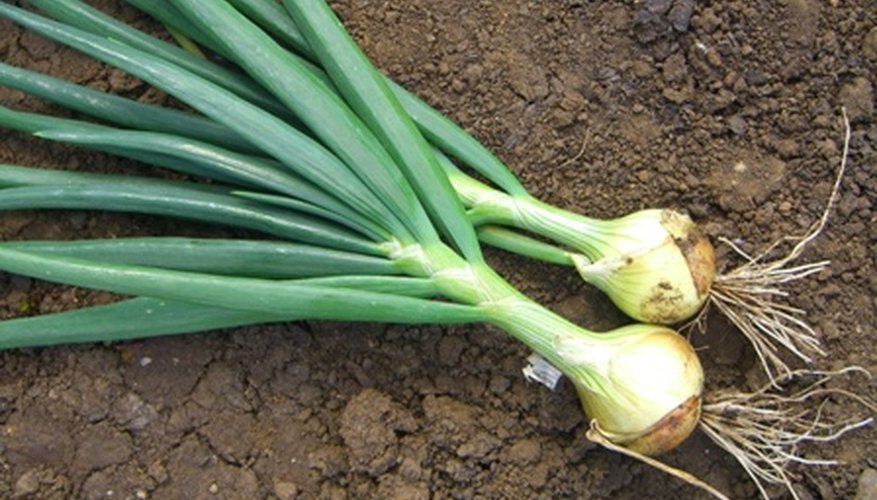 Onions are easily grown in all parts of the country. They do best when planted late in the season, particularly late October when the weather is getting cooler. Onions are close relatives to garlic, chives, leeks and shallots. They are tolerant to cold temperatures and frost, and grow relatively quickly. Green onions are usually planted from seed and can typically be harvested within a few weeks of planting.
Prepare the soil that you plan on planting your onions in. Choose a 10-20-10 fertilizer for best soil preparation. Prepare raised beds for your onions. They should be approximately 4 inches high and 20 inches wide. Make a trench on top of the beds and use the fertilizer in the bottom of the trenches. Cover the fertilizer with 2 inches of soil.
Plant the onions on top of the soil in the trenches and cover lightly. Apply nitrogen fertilizer every 2 weeks. The first time you use nitrogen fertilizer will be about 3 weeks after planting and then every 2 weeks afterwards. Water the plants after applying the fertilizer and keep them moist during the entire growing season.
Harvest your onions when the tops begin falling over. This is when the bulbs will be mature and will produce a round, large bulb. You can harvest onions early and use the green onions. Store your onions separately in the refrigerator and they will keep for as long as a year. The sweeter your onions, the shorter the storage period.
Pinch off the flowers if your plants begin to flower. The onion plant will still produce an edible onion but the vegetable will be smaller than normal. Use a good insecticide if you see any pests infecting your plants.
References