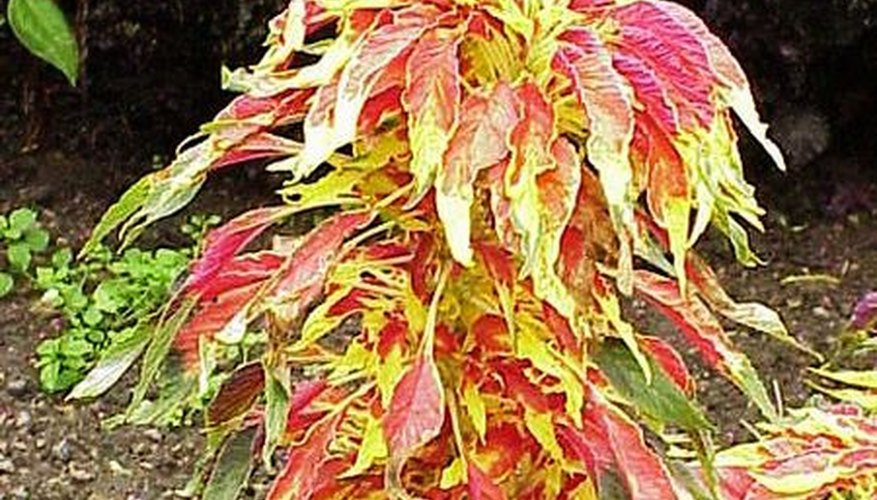 Joseph's coat--known botanically as amaranthus tricolor, and colloquially as "Love Lies Bleeding" or Chinese spinach--is an edible herb named for its unusually bright and varied coloring. Joseph's coat is grown from seed as an annual in beds and borders and mass carpet plantings. Depending on the varietal, the leaves will combine two of more hues of yellow, red, purple, green and deep cerise pink. The individual leaves can be variegated in stripes of color, as can the entire plant. It is a jaw-dropper in the garden that easily steals focus from even the showiest blooms.
Provide Joseph's coat with a full sun exposure to achieve the most vibrant leaf color. In very hot or dry climates, midday and afternoon shade is desirable and will prevent wilt. It is not at all finicky about soil conditions and actually prefers soil of average to below-average nutrient value. Because of this, no fertilizer is required (or even desirable) as it can cause the color of the plant to fade. This makes it easier to use as an edible as well.
Water deeply once a week--or more frequently if needed--to ensure evenly moist soil. Apply water at the base of the plant; and, as with any herb, avoid splashing the leaves to prevent fungus. Though Joseph's coat is somewhat drought-tolerant it can wilt and show strain when under-watered during hot conditions. Mulch with an organic material such as shredded bark or cocoa hulls around the roots, to cut down on watering and weed formation.
Prune away any diseased stems or foliage as you see them throughout the growing season. Leave the small red flowers to dry on the plant and the seeds will self sow in place or can be captured by wrapping the seed head. Prune back to the ground or pull up the fading foliage in the late fall or winter, and compost.
Things You Will Need
Water

Organic mulch

Secateurs or shears

Stakes and flexible garden ties
Tip
Some varietals of Joseph's coat can reach up to 48 inches in height at maturity, and staking can be helpful in keeping an orderly, upright display.