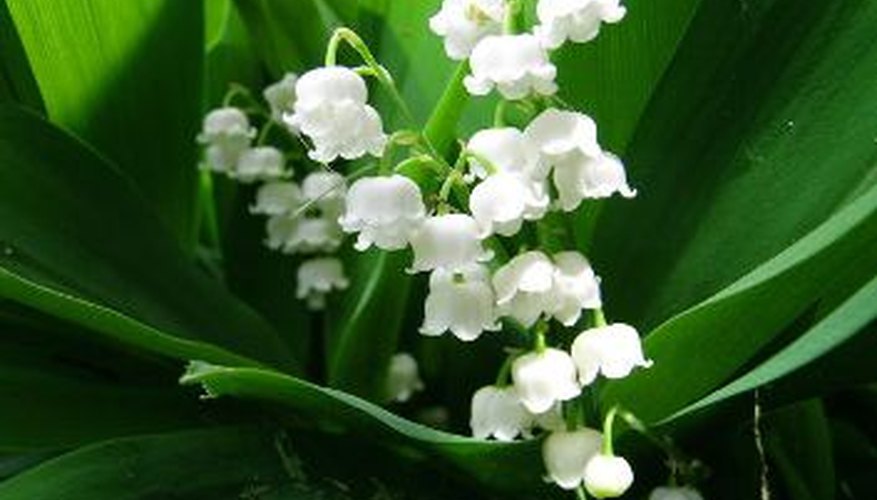 Despite its delicate name and appearance, Lily of the Valley is a tough little plant. The flower stems reach 8 to 10 inches, just a little taller than their broad, furled leaves. The white flowers are little clusters of tiny bell-like blooms. They typically occupy a shady spot in the yard, where they can be left undisturbed for years. These flowers are grown from rhizomes that are known as 'pips.'
Select and prepare the garden site for Lily of the Valley a month before planting. They need partial shade or can be planted under deciduous trees. Dig up the soil; remove weeds, rocks and other garden debris. Incorporate generous amounts of well-rotted compost or manure. If the soil is heavy clay or slow-draining, add generous amounts of peat moss.
Plant Lily of the Valley in the late fall. Turn the pip so that the little roots protruding from it are facing into the soil. Plant the rhizome 1 inch deep and 4 inches apart. Water to settle the soil around the pip.
Cover the garden site with compost or mulch in the early winter. You can also cover them with a generous amount of decaying leaves from deciduous trees.
Watch for Lily of the Valley to emerge and flower in April or May. Keep the soil moist throughout the growing season. Other than suffering from inadequate drainage, they encounter few problems.
Leave the foliage undisturbed for several years. If the Lily of the Valley grow dense or the flowering is poor, lift and divide the rhizome in fall or early winter.
Things You Will Need
Shovel

Compost or well-rotted manure

Peat moss

Lily of the Valley pips

Decaying leaves or mulch
Warning
The leaves and flowers of Lily of the Valley are toxic; keep them away from children and pets.