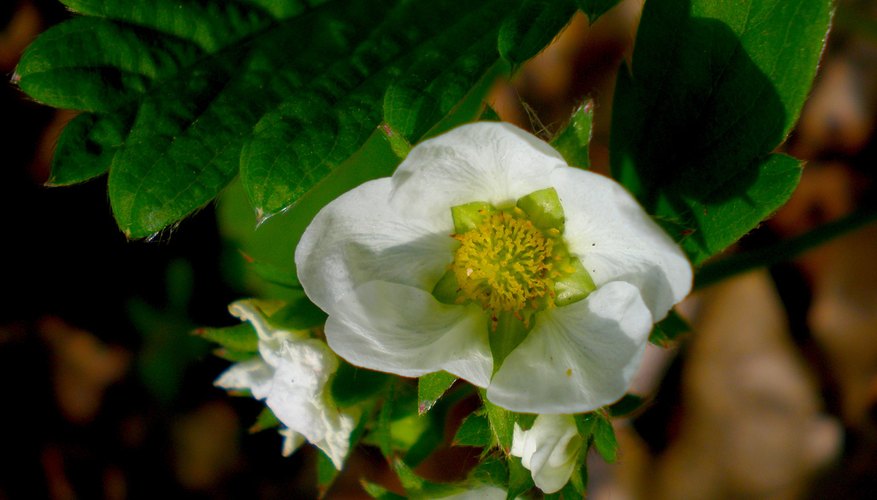 Woodland strawberries are a member of the rose family (Fragaria vesca) and are native to the Western United States, Canada, Iceland, Lapland and European woodlands. It is often found growing wild or used as an attractive groundcover, since it spreads easily. It can be grown in other parts of America with little effort. The woodland strawberry is a spreading perennial that only grows a few inches in height.
Dig up the wild woodland strawberries during the summer. Place them in pots covering the roots and stems with weed free, good quality soil.
Keep the plants in a greenhouse to permit a strong root system. Water as needed to maintain moist soil.
Choose any area to grow the woodland strawberry that has full sun and loose soil. Do this in the fall or winter.
Space the plants around 10 inches apart. Use a hand trowel to dig holes slightly bigger than the pot size.
Carefully remove the plants from the pots. Place plants in the hole level with the ground.
Cover with dirt and pat down to remove air pockets. Water as needed and throughout the growing season to sustain moist conditions, but do not waterlog.
Add a small amount of vegetable or flower fertilizer to the plants during the growing season. Get rid of any weeds near the plants.
Add a thin layer of straw mulch around the plants to keep the berries off of the ground, if desired. A layer of organic manure can also be used as mulch.
Dig up and replant any runners to control the size of the patch. Use pruning shears to prune runners as well to maintain.
Watch for blooms in late spring. Strawberries will be seen in June. Pick ripened strawberries daily, if needed.
Use pruning shears to get rid all of the fruit bearing spurs and old leaves on the plant at the end of the growing season. Do not damage the center of the plants.
Divide the patch every third or fourth year to create a new patch of younger plants. The younger plants are stronger and will generate more fruit.