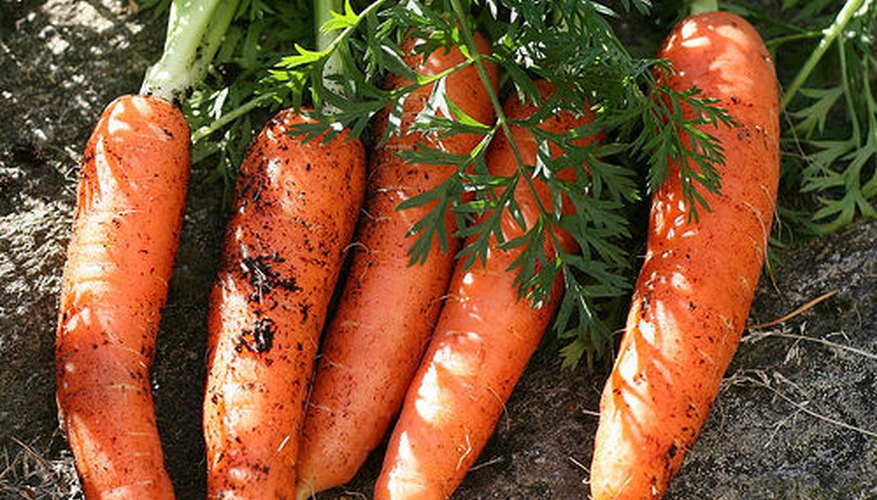 Carrots are biennial vegetable plants, which are valued for their nutritious edible roots. Carrot roots are orange in color, and high in vitamins A and C. They can be eaten cooked or raw, and are often used in salads or as a side dish. Carrots are typically grown as annuals, as the roots are harvested after the first year of growth. Very easy to grow in home gardens, carrots are a popular food crop across the country.
Plant carrots in a location that receives between 5 and 7 hours of direct sunlight each day. Ensure the soil is highly fertile and well-drained. Sow the carrot seeds during March or April, and leave about 2 inches between each seed to allow room for growth.
Water carrots four to five times a week prior to germination to keep the seeds moist and initiate the start of growth. Reduce watering to twice per week once the sprouts have emerged from the soil.
Cover the planting site with polyethylene film after planting carrot seeds to conserve moisture, warm the soil and suppress weeds. Remove the film immediately after seedlings emerge to allow growth. Leaving the film in place will stunt the seedlings and the crop may fail.
Apply a light 1-inch layer of mulch to the soil after the seedlings emerge to help conserve moisture and prevent the growth of competing weeds. Refresh the layer of mulch as often as necessary until the carrots are harvested.
Harvest carrots when the roots are at least ½ inch in diameter, usually about 50 to 70 days after planting. Use a small trowel to carefully displace the soil around the root, and then gently pull up from ground to remove.
Things You Will Need
Polyethylene film

Mulch

Trowel
Tips
Polyethylene film can be purchased at well-stocked lawn and garden or home improvement retail stores.

Grass clippings and chopped leaves are ideal for mulching carrots.

Remove the top foliage from the carrots, and then store them at 32 degrees Fahrenheit in a refrigerator or root cellar.

Misshapen or deformed roots can result from overcrowding or an abundance of rocks in the soil.