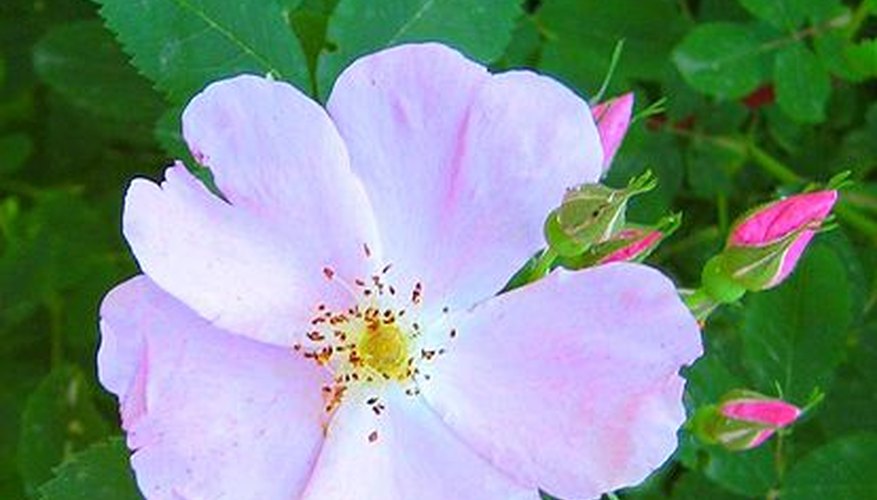 Wild rose bushes are some of the easiest flowers to grow, assuming the variety of wild rose bush you are growing is native to your area. They require little care and virtually no fuss, unlike other types of roses. While wild rose bushes don't have the complex blooms of hybrids, they also need no fertilizer or pesticides to keep them growing beautifully. Most of the time you don't even need to prune wild roses, unless you want to keep them in check, of course.
Choose a variety of wild rose native to your area or native to a climate similar to yours. There are many varieties of wild rose bushes that will thrive in almost any environment.
Choose a spot in your yard to plant the wild rose bush. Make sure it is in full sun, as roses like all the sun they can get. Well drained soil is also a plus.
Plant your wild rose bush. Dig a hole as deep as the planter the wild rose bush came in, around a foot deep and 1-2 feet wide. Place the wild rose bush in the hole, cover with soil and pat down. You may add top soil if you wish.
Water your wild rose bush about once or twice a week for 5 minutes each watering.
Prune your wild rose bush in early spring when the leads are hard. Trim off any dead leads or any excess growth you don't want. Leave the rest of the bush wild.
Tip
Henry Hudson, John Franklin and Henry Kelsey are all very cold resistant wild rose varieties, hardy to Zone 4.
Warning
Wild rose bushes look best if left to their own devices and allowed to grow wild. If you want something with a more manicured appearance, plant tea roses.
References
Resources