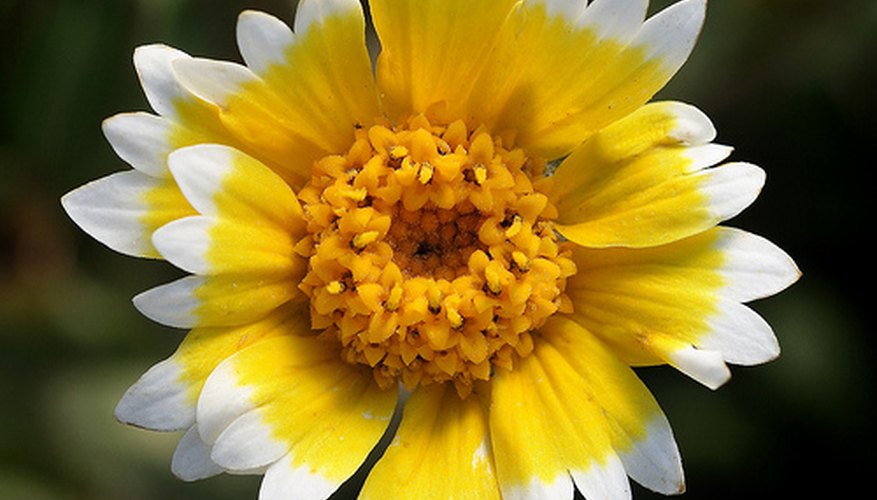 Tidy tips are small annual plants that bloom in spring and summer. They are native to California, where they grow as wildflowers, and prefer slightly dry conditions. Tidy tips produce daisy-like, symmetrical flowers with white tips. They are easy to grow in the home garden and thrive in most hardiness zones. Tidy tips require very minimal care after planting and will return year after year if allowed to seed.
Sow tidy tips seeds in early spring after all danger of frost has passed. Choose an area of the garden that receives full sunlight and has well-drained, fertile soil. While tidy tips will tolerate most types of soil, they'll do best if organic material has been added to increase soil fertility.
Prepare the planting area by breaking the soil with a rake. Spread a 1-inch layer of organic compost over the soil and rake again to incorporate. Combine the seeds with fine sand and broadcast mixture over the soil. Rake the soil to cover the seeds lightly and press down with a board to prevent seeds from washing away.
Water the tidy tips seeds once every 2 to 3 days until germination. Reduce watering to once every 5 to 7 days. Continue watering once per week while the plants are actively growing. Soil should be allowed to dry between watering.
Allow tidy tips to produce seed after flowering if you wish them to return the next year. Leave them in the ground to die at the first frost, and new plants will emerge the following spring. You may also remove flowers as they fade to prevent seed production, although this can be impossible with a large patch of heavy-blooming tidy tips flowers. No pruning is needed.