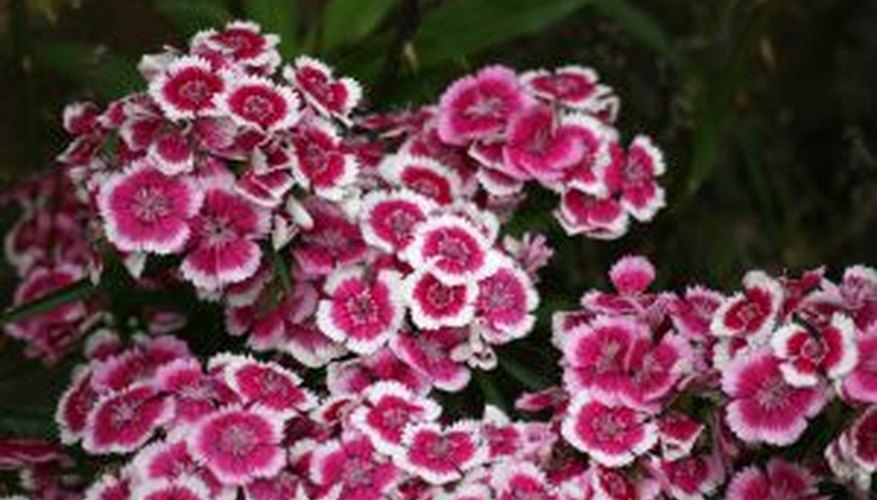 Garden, border and edging landscaping plants add the finishing touch to your yard. Whether you have a vegetable garden, flowers or shrubs, all plants require the proper care to flourish and continue to be attractive. While each plant variety has its own requirements specific to it, all plants benefit from the same basic care—good soil, proper moisture and the right amount of light exposure. Ensuring these needs as well as other concerns are properly met will help your plants grow lush and healthy.
Work compost into garden beds before seeding or planting new plants. Add enough compost to raise beds 2 to 3 inches, which improves drainage and the nutrient level of the soil. Most plants require rich, well-drained soil.
Water the plants as often and deeply as specified for each plant variety, usually 1 inch of water per week. Keep most plants moist but not soaking wet. Weekly deep waterings are preferable over frequent light watering. Avoid splashing water on the underside of the leaves which leads to fungal infections.
Fertilize plants with variety-specific fertilizer or general purpose fertilizer. Fertilize once in spring after planting or after plant puts forth new spring shoots. Fertilize a second time after blooming or in mid-summer to encourage healthy root and foliage growth for the remainder of the season.
Weed the garden regularly and spread organic mulch, such as wood chips around the base, of plants to preserve moisture, combat weeds and maintain soil temperature. Use gravel mulch around dry-loving plants such as lavender to protect the roots but not hold in as much moisture.
Check plants regularly for signs of insect or fungal infection. Wilting, tattered leaves are common symptoms of insect invasion. Look for a white, gray or blue powdery substance if fungal infection is suspected. Treat problems immediately with pesticides or fungicides.
Protect bulbs, tubers and corms from deer and squirrel depredation by planting in wire mesh boxes, available at garden stores. Plants grow through the mesh, but animals cannot access the bulbs inside.
Deadhead flowering plants throughout the blooming period to prevent seed production and encourage more blooms or foliage growth. Pinch off the entire spent flower head above the nearest new bud. Remove stem completely once all the buds have bloomed, but leave foliage in place to wilt naturally.
Pick vegetables and fruits as soon as they ripen to encourage further production. Frequent picking of perennial flowers for bouquets and arrangements usually encourages further blooming as well.
Things You Will Need
Compost

Fertilizer

Mulch

Pesticides

Mesh bulb boxes

Garden shears
Tips
Use pine boughs or straw as an inexpensive winter mulch to protect plants from the cold.

Cut back perennial flowers completely if they look scraggly. This encourages new, lusher foliage to grow.
Warnings
Only use pesticide treatments that are safe for vegetable gardens on edible plants.

Avoid spreading disease in your yard. Always wash off all tools before working in another part of the landscaping.