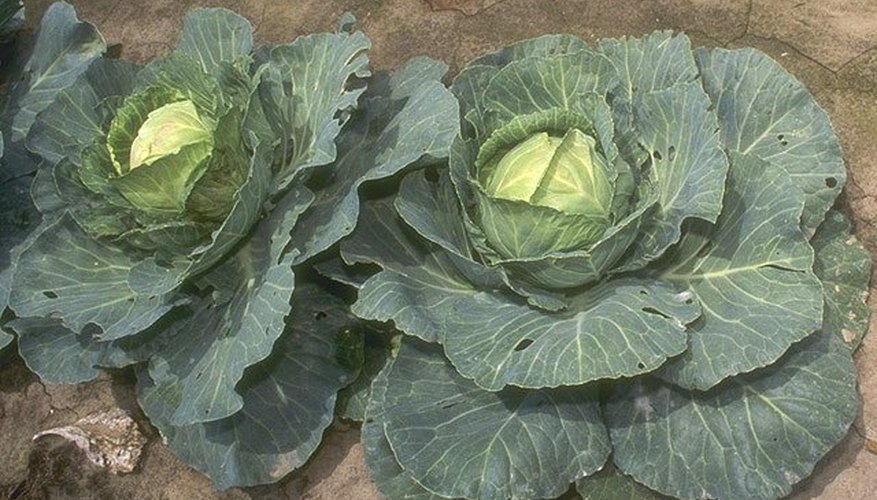 Cabbage is a hearty vegetable that prefers cool days and moist soil. It's best grown when planted early in the planting season before the hot summer months. Soil should be fertile and provide adequate drainage to ensure healthy plants. The plant must be checked frequently for disease and insect control. Cabbage is in the same family with broccoli and cauliflower and is an excellent source of nutrition. Cabbage also has disease-fighting properties.
Plant your cabbage early. Cabbage is a hearty vegetable that is tolerant of frosts. It can also be planted late in the season, during mid-summer, if you want a late harvest. Even though cabbage will grow in many conditions, the best time to plant cabbage is during cooler spring and late fall weather. You will get a larger, healthier vegetable by planting during those times.
Mulch the soil around your cabbage plants. Mulching the soil will help get rid of existing weeds and help to control future weeds. Mulching also helps to maintain an excellent moisture level for your plants, provides the plants with a cooler ground temperature and allows the roots of the plants to expand and grow.
Use insecticides and fungicides to prevent pests from destroying your plants. You will need to apply insecticides several times during the growing season to fight off insects and to have a large, healthy crop. Avoid over-watering and use a fungicide to prevent rot and disease to your plants.
Harvest your cabbage when it becomes firm and weighs around 2.5 pounds. A good diameter for a mature cabbage is approximately six inches. Cabbage will keep fresh for about two weeks in the crisper part of your refrigerator.